Building bridges to state
Hang on for a minute...we're trying to find some more stories you might like.
As you may already know, I am a trumpet player in the Central Hardin Marching Band. This is my fifth year marching with the Bruins.
Our 2018 program, "Building Bridges," is one of the best shows in Central Hardin history and our season has been very successful. The show has selections from "Beneath the Brine," "Bridge Over Troubled Water," and "Ascending Bird."
My favorite movement in our program is  where Masiya Smith, our vocalist, covers the ballad "Bridge Over Troubled Water." This is my first time having a vocalist in a show and it is incredibly beautiful. Masiya does an amazing job.
We have recently advanced to semifinals in the KMEA state competition.
At the quarterfinals competition on Oct. 20, we placed second overall with a score of 88.85. This is the best score I have ever gotten with this band at a quarterfinals competition. We had an amazing performance, but there is always room to improve.
This Saturday, the band will be traveling to University of Kentucky Kroger Field to compete with some of the best bands in the state for one of four spots in finals.
Central Hardin has not advanced to state finals in over 20 years. This weekend, however, might change that.
This season has not been the easiest, by far, but we have definitely conquered the challenges brought upon us. After being in the marching band for five years, I am extremely proud of how far we have progressed.
Making state finals is within reach for us and we need to put our minds to it if we want to make it. We are the closest we have ever been. It would be the perfect way to finish of my last year with the band.
Something marching band has taught me, though, is that it is more than winning or taking home a big, shiny trophy. Performing an amazing show and connecting with the audience is feeling that I would never want to trade away. The relationships I have made in the past five years are also very special and significant to me.
In the end, all of our hard work is worth it, regardless of our placement on Saturday. I have lots of love for this band and the people marching alongside me.
Here's to making history this weekend.
About the Writer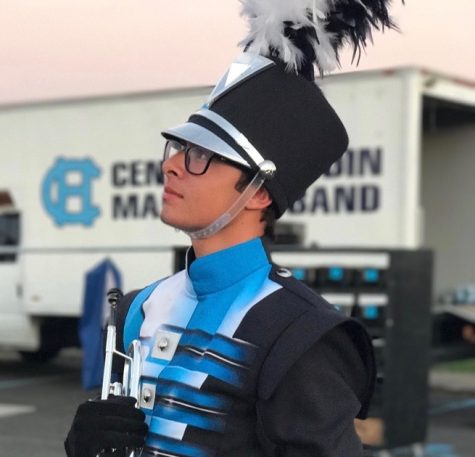 Sebastian Petzinger, Writer
Hi, my name is Sebastian Petzinger. I am a senior at CHHS. This year will be my first year on the Central Times Staff. Journalism has always been an interest...