From Classroom to Stage
Discover the Rave That Is Mr. Eaton's Biology Class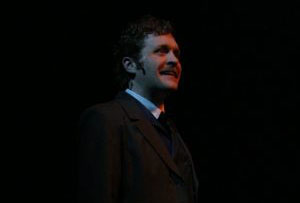 There I was, sitting in class, when biology teacher Jared Eaton declared that he could turn water into wine. Suddenly, every eye in the room was on him. Throughout the presentation, a dumbfounded look covered each student's face and no one could blink until the show was over.
Teachers are constantly trying to figure out ways to keep students' minds inside their classrooms. For Eaton, this comes naturally.
"I am a storyteller," Eaton said. "And that is one of the things that comes through in my teaching a little bit is that I'll connect everything to a story."
As an actor, Eaton uses roles and audience engagement techniques to capture his students' attention. His sense of humor and talent in the arts makes students eager to come to class every day, wondering what today's lesson will possibly bring.
Beginning at just the age of eight years old, acting was a big part of Eaton's childhood, mostly performing roles in local churches. It wasn't until sixth grade when he got his first role in a school play.
Throughout high school, theater was like sports to Eaton. Attending New Albany High School in southern Indiana, the school performed three plays a year. Acting was like being in season year-round, with short offseasons in between. For three years he performed ensemble, until his senior year when he decided to challenge himself with a lead role.
However, with bigger plans on his mind, Eaton wasn't exactly focused on pursuing an acting career.
It took medical school, seminary, and finally, substitute teaching to introduce the idea of being a teacher to Eaton. Being around high school students and discovering their unique talents was what brought him the most joy. Teaching high school was never a last resort as much as settling on doing what he loved most. 
"What do I miss?" Eaton asked himself when trying to decide on his career path. "What is it that I used to have that I don't have now? And that was working with high school students."
It wasn't until his former seventh-grade science teacher invited him back to his old school to work on a play that acting was reintroduced to Eaton. His love for acting was reborn; however, instead of distracting him from his work, Eaton was able to channel his new hobby through teaching.
"It's honestly astounding how interconnected acting and teaching can be," Eaton said. "Because while I have a room full of students, it's almost like my teaching area is my stage."
Teaching was his new stage. Whiteboard markers and science beakers became props. In this way, students grew to be more interested in the content and happy to be in class.
"I want students to be captivated," Eaton explained. "Not because I want them to think I'm cool or to like me, I just want them to have positive feelings toward the content."
The efforts have paid off. 
"I think Mr. Eaton is really nice and I look forward to coming to his class every day," said current sophomore student Khalil Blount.
Eaton wants to use drama to alleviate the pressure in the room. He never wants students to feel anxious in class, and therefore creates a positive atmosphere through acting.
Not only does he prioritize his students' learning, Eaton believes his acting allows him to connect with students on a more personal level.
"I love entertaining people, making people laugh," Eaton said. "And that's one of the things we love to do, reminding people that there is happiness in the world because sometimes it is easy to forget that. Allowing students to take a break and forget about family drama, the news, that's what's great."
In fact, Eaton is so committed to using his talents to motivate students that he would never leave the classroom for a career in acting. Spending the summers enjoying his hobby is enough, he says. 
Eaton has had a role in plays such as The Little Mermaid, in which Principal Tim Isaacs played his servant, and The Hunchback of Notre Dame, where they were brothers. Theater has allowed him to build connections with colleagues such as Isaacs.
"I love working with Mr. Eaton on the stage.  He's very talented and we've had the opportunity to share some really good roles in several productions," Principal Tim Isaacs said.
Eaton wants to help each student pursue the career path that makes them happy. That will allow them to do what they love and be successful. But the word "success" means something different to him.
"One of the most challenging things for any student, no matter what you're pursuing," Eaton said, "is the word success. Because what is successful to you, may not be what your parents' definition of success is."
In the world of theater, many believe that Broadway is success. If you don't make it to Broadway then you will not be on top. The truth is, Eaton believes, success isn't the same for everyone.
"Know realistically what you are capable of," Eaton said. "Know what you want, and stick it through."