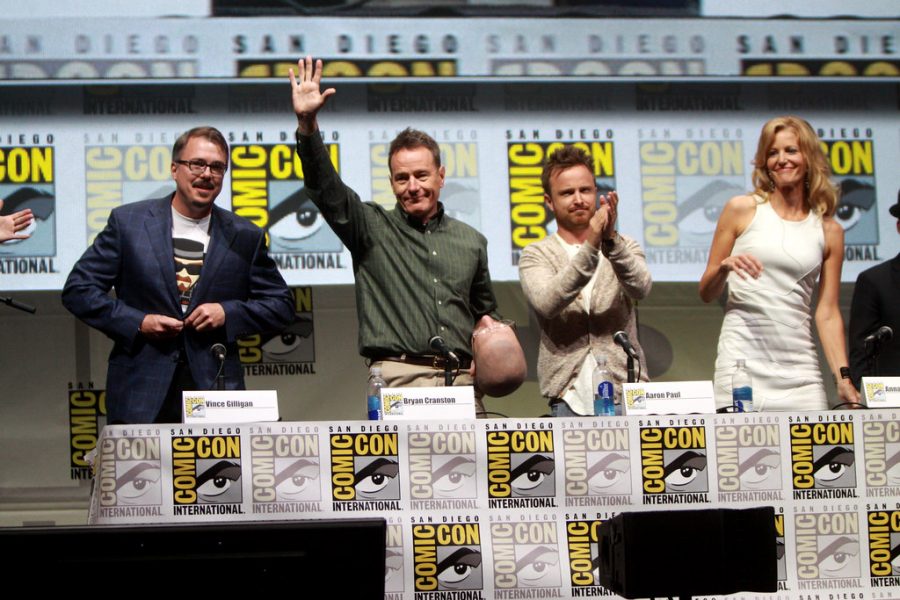 Gage Skidmore
Breaking bad 
Overview: 
Walter Hartwell White is a 50 year old high school chemistry teacher who was diagnosed with lung cancer shortly after his 50th birthday. Realizing his cancer treatment will cost him thousands of dollars and that his family can't afford his medical bills, or the debt he will leave them behind, he figures out a way to support his pregnant wife and son with cerebral palsy. Walt doesn't even know how long he has left, so he turns to methamphetamine production to make a lot of money fast. Teamed up with former student and meth cook/dealer Jesse Pinkman, the men rent an RV, cooking out in the middle of the New Mexican desert, hiding from the prying eyes of the DEA. 
Review: 
Breaking bad was such an emotional, shocking, and heart pounding show with twists and turns at every new issue Walt and Jesse face. It keeps viewers on their toes through all five seasons and ends with a satisfying, yet sad conclusion. I never really thought much about the show before watching it, but it has become one of my all time favorites. 
El Camino
Overview:
El Camino is a movie that takes place after the series Breaking Bad. It follows Walter White's partner Jesse Pinkman as he tries to avoid being caught by the police and tries to start a new life. It is full of flashbacks from his past, from when he was a child, his business with Walter, and traumatizing events that were kept offscreen in Breaking Bad. 
Review:
Breaking Bad mostly followed Walter White's point of view as he dealt with cancer and tried to provide for his family. El Camino was such an interesting movie due to the fact that the audience didn't really know a whole lot about Jesse Pinkman. Some of the scenes were so shocking, full of raw emotion, and heartbreak, that it gives a new sense of pity and a new understanding of Jesse's character and actions. 
Better Call Saul
Overview:
Yet another show that takes place in the Breaking Bad universe, Better Call Saul shows yet another point of view through the eyes of Saul Goodman, Walter and Jesse's sleazy lawyer who kept them out of trouble with the law. Before changing his name to Saul, he was known as Jimmy McGill, a lawyer trying to build his own company with a bad reputation following him from his past known as "Slipping Jimmy." The former con man tries to get himself clean and wants to help people, yet things take a turn for the worst. 
Review:
Jimmy McGill never gets a break. He's always been on the short end of the stick, which makes you root for him in every way possible. The show is a complete contrast from his fun loving, comedic character in Breaking Bad, allowing Saul to be taken in a more serious manner. . 
Tiger King: Murder, Mayhem, and Madness 
Overview:
Tiger King is a documentary with bits and pieces of a reality TV show that follows big cat breeders, activists, and zoo keepers. The reoccurring stars of the show are Joe Exotic, Carole Baskins, and Bhagavan Antle. The documentary spins a tale on the years of conflict between Carole, Joe, and Bhagavan and each of their pasts in the exotic animal field. Each of them has some type of dirt on the other, even going as far as conspiracy of murder! This is a must watch due to the bizarre characters and truth behind the big cat industry. 
Review:
This show was completely bananas. Full grown tigers walked around houses like domesticated cats, Joe Exotic's Zoo was taken out from under him by a complete stranger, there was conspiracy to murder a popular figure of PETA, and a video was shown of a man taking his own life. Wow. Just wow. For the people who haven't seen or heard about this show, visit Allison Cundiff's article on The Central Times news site and hop onto Netflix ASAP. 
Three Billboards Outside Ebbing Missouri
Overview:
Mildred Hayes, mother of recently deceased Angela Hayes, drives past three abandoned billboards and has an idea to try and get her daughter's case solved. About a year prior, Mildred refused to let her daughter take her car for a night out, telling her she has legs and could walk. Angela left the house on foot and was jumped by several men, beaten, raped, and caught on fire afterwards with gasoline. The case ran cold due to a crooked police force who couldn't find any leads and Mildred took it upon herself to get the Police chiefs attention by writing, "Raped while dying. And still no arrests? How come, Chief Willoughby?" across the billboards. Inspired by a 27-year old murder case in Texas. 
Review:
This movie was a wild ride. The country town of Ebbing Missouri has a lot of wacky characters who are extremely southern and won't take crap from anyone. Stone Cold Mildred Hayes is a great example of that- she won't allow anyone to back talk, abuse, or tell her she can't do something, and if they do, there are dire consequences when she's messed with. There are multiple heartbreaking and stressful scenes, especially since it's told from the point of view of a grieving mother, but overall, the lesson taught is anger begets greater anger. 
Knives out: 
Overview:
A famous author has been murdered, but by who exactly? The crime scene shows a man who shot himself, yet the detective is certain that someone living in his household is responsible for his death. He interviews each and every one, hoping to get the story straight and the mystery solved, but no one seems to be guilty. Knives out takes audiences through the perspectives of the perpetrators and how each one of them could have done it. With odd twists and turns, the murder unfolds and the motive behind it prevails. 
Review:
Knives Out keeps viewers on their toes due to new pieces of the puzzle unraveling after each interview. The way evidence recovered is reminiscent of the 1985 movie Clue, based off of the board game. The movie stars popular Hollywood actors, such as Jamie Lee Curtis, Chris Evans, Katherine Langford, Jaeden Martell, and many more, making it interesting to see them respond to each other since these actors have never been in a movie together. 
Prospect 
Overview:
Set in a distant, futuristic world, Prospect follows a teenage girl and her father on a space mission to mine for rare gems. After landing on their targeted planet, strangers take the girl's father hostage, later killing him, leaving the girl to fend for herself, stranded on an alien planet. One of the strangers finds the girl and her spacecraft, hoping for salvation off the planet he's been stuck on for years, but finds out it's damaged. Together, they escape danger while trying to make their way back to their own homes. 
Review: 
The beginning of the movie is a bit confusing for viewers, since no one has any clue about what's going on, but as the movie progresses, the girl's past is revealed and bits of life in the future start to unravel. Humans and "aliens" on planets across the solar system are allowed to travel to anywhere they dream as long as they have the right equipment. Young children are put through years of intense schooling with tough material that modern day people could never even imagine. Bases for mining rare materials and transportation ports are built wherever beings see fit and space suits are always needed no matter what planet, so they're readily available. Prospect shows everything the future could be and more while following the young girl's journey off the dangerous planet her father drug her to.