College Spotlight
Central Hardin Alumni from UK, UofL, and WKU Share Their College Experiences
        Many people, like myself, find themselves stressing out about college, and all of the little things that go along with it. People are often worried about the requirements that you need to enroll in college, but not what the college experience is actually like. I've asked three people from three colleges widely attended by Central Hardin graduates: UK, UofL, and WKU. Here are some inside looks of what college is really like. 
University of Kentucky:
-Tuition: In-state tuition $12,360, 
Out-of-state tuition $30,680
-Average GPA: 3.51
-Average ACT Score: 26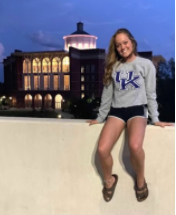 -Acceptance Rate: 94.5%  
Carolee Coleman, Central Hardin Class of 2019-
What is your favorite part about your college?
I love how I get to make my own schedule and do things on my own. Like I decide when to study and when to work out and when to be with friends and when to do homework. It's the first time you can really do life by yourself and it's fun to get to learn that. 
What made you decide you wanted to go there?
I've always wanted to go to UK but I kept my options open for a while. The campus is absolutely beautiful and their medical programs are really highly respected because they're very put together and structured.
Do the people make you feel welcome?
Everyone on campus is extremely welcoming and all united. The fan base at UK is really strong so that helps but just walking by people will smile and say hi so it's easy to meet people. I have never sat by someone in a class and not had a nice conversation. Everyone is open.
What is the hardest part about your college?
I think the hardest part was adjusting. I know I said my favorite part was doing things on my own but that was definitely the hardest thing at first. I wasn't sure how to plan or how to do things without my parents or high school friends at first so it was difficult jumping right into living alone and tough classes.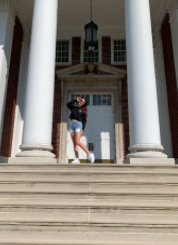 University of Louisville:
-Tuition: $11,928 for Kentucky residents and $27,954 for out-of-state students
-Average GPA: 3.62                                  
-Average ACT score: 26                                        
-Acceptance Rate: 72.4%                     
Shannon Eklund, Central Hardin Class of 2020-
What is your favorite part about your college?
It's hard to choose my favorite part about college but my top two favorites are the friends and freedom. Being at college is an amazing experience and all the new people and friends that I've made are what make it perfect. I have met a ton of people from all over and with many amazing stories to be shared. Also, the freedom to be 100% responsible for myself feels different than I ever could have imagined. I love being able to be in control of my own schedule and not having anyone else tell me when I can or can't do something.
What made you decide you wanted to go there?
A lot of factors went into choosing my university. Some of the biggest were that it is somewhat close to my hometown. I am able to drive home if there is any emergency or if I am just missing my family or friends. Also, the campus itself is a big reason why I chose it. The campus is big, but not so big that it feels like everyone is everywhere. It's a very homey community and lets me have the experience of being in a big city but living in a community. The campus is beautiful. Another factor is I was able to get a lot of scholarships and financial aid by going to that university and lastly, a small but still a factor is quite a few of my best friends are attending the same college.
Do the people make you feel welcome?
The people here are very welcoming. All the employees are very helpful in making the transition from high school to college and answered all my questions to the best of their ability. The students are friendly and will help you in any way possible. They are very nice and there are so many events held to help you meet new people and be able to find your way around campus. 
What is the hardest part about your college?
The hardest part of college is also one of the best parts. It's having the freedom and being responsible for yourself. Although it is great to be able to make your own schedule. It's also hard to hold yourself accountable to getting all your work done, eating enough in one day, and staying active. It's very different being alone and takes a while to adjust to your new way of life.
Western Kentucky University:
-Tuition: In-state tuition $10,802, Out-of-state tuition $26,496
-Average GPA: 3.39
-Average ACT Score: 20-27
-Acceptance Rate: 97.2%
Malorie Cox, Central Hardin Class of 2019-
What is your favorite part about your college?
I absolutely love everything about my college, but if I had to pick a favorite thing it would probably be my sorority. I am a member of Alpha Delta Pi (ADPI) at Western Kentucky University! ADPI has given me so many opportunities on and off campus and has allowed me to really find my place at WKU! Not only that but it has given me friendships that will last a lifetime. I am so thankful I decided to join ADPI and can't wait for all the many more opportunities and memories it is going to give me throughout college. 
What made you decide you wanted to go there?
I remember being a senior and feeling like I had no idea where I wanted to go because I just wanted to make sure that I chose the right college for me. When I first started looking into colleges WKU wasn't even a place I was interested in because a lot of my family has graduated from there and I wanted to do something different. I eventually took my moms advice and went on a tour and I just fell in love and haven't looked back since!
Do the people make you feel welcome?
Yes! Ever since I stepped foot on campus everyone that I have met has been so welcoming. You can definitely tell that all the staff is here to help you to succeed and are willing to do whatever you need in order to make sure you have all the tools to be the best student possible. I love that about WKU because it allows you to feel as though you are more than just a number to the university and that they actually care about how you perform in college. 
What is the hardest part about your college?
I think the hardest part about college for me is being away from my family. I have a really close knit family and I am especially close with my younger sister, Makenna. So being away from them was a big adjustment to make when I first came to college. I have a super busy school and work schedule so going home can't happen as much as I would like to but being able to text and FaceTime them to catch up every once and awhile makes being away from home a little easier!