A Teacher's Attempt to Make NTI Fun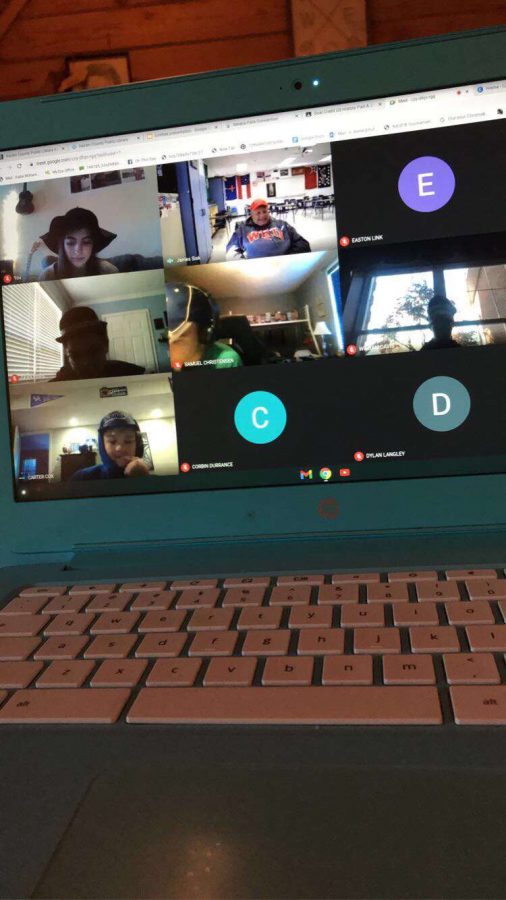 As our classes have transitioned from traditional in person meetings where you're physically in a classroom connecting with your teacher, to quiet and awkward zoom meets where no one wants to turn their cameras or microphones on and participate. Teachers are struggling with making their students feel like they're getting what they need out of the lessons, and the lack of interaction between them and the students is taking on a toll on them as well.
Many teachers try to encourage students to turn their cameras on as a way to feel a sense of comradery, and also so that it feels like more of a classroom setting. However, a lot of students either don't have cameras on the devices they use to participate in class, or just don't feel comfortable putting themselves on display like that, which is completely understandable. High School students are at a very awkward stage in their lives, and it can be very stressful feeling like all your peers are just staring at your face on a computer screen; it would make any normal teenager feel anxious. 
In order to combat that sort of uncomfortableness, one teacher in particular has used a very unique tactic in making his students laugh: hats. Mike Sisk, junior and senior history teacher, joins his zoom call each day sporting a different, and somehow funnier looking, hat each day. 
At first his students found it ridiculous and very in character for a teacher like Sisk, who is a favorite teacher for a lot of students. In his goofy nature, he continued wearing another hat day after day, some with historical significance which meant he would tell an interesting story to go along with the hat, and others that were just funny hats. Soon it became customary that Sisk would show up to class wearing his latest wacky headpiece.
One day, as an attempt to surprise Sisk, a few students showed up to class wearing hats of their own. Junior Grant Avis, who has Sisk for Dual Credit US History, was one of the first couple students to turn on their cameras and wear a hat. Avis said the idea to start it was very simple.
"Honestly, I just had a hat sitting right next to me, one I had just bought. Mr. Sisk wore his hat and I went along with it. It was fun," Avis said. 
Sisk is a teacher who likes to acknowledge each student personally, and takes the time to try and make each student feel like he notices them or has something to tell them. This includes the hats. 
"Mr. Sisk did take the time to comment on our hats," Avis recalled from when they first surprised him. "The first day, I wore one from a historical political campaign, so obviously we talked about it. Even beyond that, I don't recall him ever not interacting directly with someone who had turned their camera on and wore a hat. He took the time to comment on each one every day."
Anyone who knows Sisk knows he's long winded, you could say, with the way he teaches through storytelling. It's easy to tell he enjoys sharing these pieces of information with his students, and in his class he even had a day wear he had his students dress up in old war uniforms that all held an interesting story in each of them. Not only that, but it was also fun for the students, as we got to see our classmates dressed up in goofy costumes and have a break from the stress of going to school on a hybrid schedule, instead of feeling pressured while we were in school. However, now we don't even have the privilege of doing stuff like that in class, so now while we're on NTI we have to do what we can to make it through the week. 
Sisk considered this and it's ultimately what led to him using this method to attempt to cheer his students up a bit. 
"I have plenty of historical hats laying around from my old reenacting days so why not mix it up a little? Everyone is stressed somewhat with the pandemic and I thought this would be one way I could lighten up with my classes," said Sisk. 
Avis highlights the positive spin students are trying to put on things by saying, "This wouldn't have been able to happen without NTI because of the dress code. It's really cute and it cheers me up, anyway. We're still able to learn in that class and enjoy ourselves. Having fun is a compliment to learning, not a distraction from it."
That piece of wise insight is good for everyone to hear. To most students the idea of making NTI 'fun' seems foreign and quite honestly unachievable. But, if you're just willing to make yourself abandon a little bit of cynicism for one day it's possible it's not entirely unbearable. Sisk and his students are proving that by trying to build a stronger sense of comradery and goofiness little by little everyday.
About the Writer
Reagan Reed, Writer
Hi, I'm Reagan and I'm a sophomore (that's me on the left). I play tennis here at Central, and I'm also involved in Y-Club and Pep Club. This is my first...