A Nontraditional Nutcracker Ballet
The Dance Centre, PAC Prove That the Show Must Go On
The year 2020 has been a year of missed traditions and opportunities. As the Holiday season quickly approaches, people begin to wonder how the traditions of their families and towns will be affected this year. 
If you've ever spent your December Holidays in E-town, you probably know about the countless events this small town has to offer. One of the most well known and heartwarming traditions is the Nutcracker. 
This ballet has been put on every Christmas for over 40 years by The Dance Centre of Elizabethtown; the last 17 have been hosted at Hardin County's own Performing Arts Center (or better known as the PAC).
The Nutcracker was the grand opening show at the Performing Arts Center in 2001 and in 2006, the PAC signed on to co-produce the show with the Dance Centre of Elizabethtown.  
The producers of the Nutcracker this year have adapted to the new norm and still plan to share their amazing show with the community again this holiday season through live streams.
Sherry Barnard, owner of The Dance Centre of Elizabethtown, shared that planning for the show this year "has been a real challenge."
Ultimately though, it was for the sake of Barnard's seasoned dancers that this tradition had to be continued. 
"We were on the edge about whether or not to attempt to produce Nutcracker this year but this is something our dancers have grown up with and traditionally our seniors will have the principal roles – something they look forward to as they continue to dance through high school," Barnard said.  "We have six seniors this year and the thought of disappointing them after so many years of study was simply not an option." 
Barnard, as well as fellow producers, thought long and hard to come up with a solution for how the show could go on. 
"We had to figure out a way to make this year's Nutcracker work, no matter what configuration it might take," she said, "so we thought long and hard and came up with the idea of double casting and had to cut the number of performances from five to two."
This was far from the only obstacle that the producers had to face this season. 
At first, only 10 dancers were allowed on stage at once, this made it hard to have large group dances that the Nutcracker offers. Due to this issue, the mice that are portrayed by younger dancers had to be cut from the production to provide more area for distancing. 
Barnard also shared that her dancers are taking "extreme precautions" by distancing, wearing masks in rehearsal as well as during performance, taking temperatures, and using sanitizer. 
The Nutcracker would not be the wonderful show it is without the committed dancers it features. 
Central Hardin junior Gracie Skaggs, who has participated in the show for 11 years now, spoke about why it was important for her and her fellow dancers to put on the show this holiday season.
"Though we are doing (the show) in a non traditional manner, we thought it was important that we continue this tradition because people need a sense of normalcy this year," Skaggs said."Cancelling the show completely would've made a lot of people upset, performers and audience members both." 
Though the cast is making efforts to provide normalcy to their audience and community, aspects of their performance will be far from normal.
"Not having a live audience this year is going to be kind of different. Having a live audience is such a big part of the atmosphere of getting to perform," Skaggs shared. "But, we're all so glad we still get to put on the show in some way." 
The Nutcracker has always featured many of Central Hardin alum and current students. This year keep an eye out for our very own Tim Isaacs who will be portraying Clara's father, Mr. Stahlbaum, as he has every year for the past 11 years. 
"The Nutcracker has become an important piece in the Christmas season in Hardin County," Isaacs said. "It provides a little bit of normalcy for the community. It is also wonderful that the dancers that work so hard are going to get their opportunity to show the fruits of their work off. I am honored to play a very small part in this production." 
Bart Lovins, director of the PAC, shared the details of how the show can be watched this year. 
The PAC will be streaming live on Saturday, December 19, at 2PM, and Sunday, December 20, at 3PM. 
Both of these performances will then be available On-Demand, December 24th through January. 
Tickets for the live streams and On-Demand performances are on sale now on thepac.net.
HCECTV will be running the performances throughout the holiday season and will be selling 1. DVDs of the performances as well.
About the Writer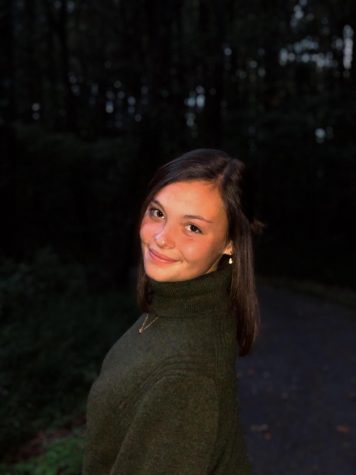 Claire Prater, Writer
Hi! I'm Claire Prater and I'm a junior here at CHHS. I play soccer for Central and for Atletico Flames. I also enjoy drinking coffee, listening to music,...