The Return to Five Days: Your Questions Answered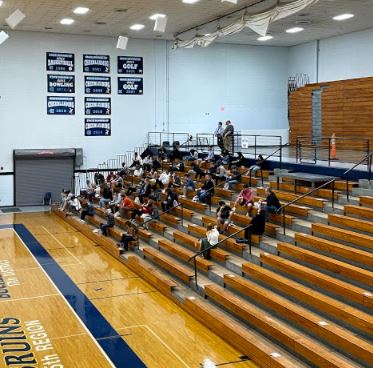 "This is your generation's Where was I? This is what you'll tell your grandchildren."
In a recent interview with The Central Times staff, principal Tim Isaacs used these words to emphasize the impact of the past year's experiences on students. 
What lesson does he hope you will learn from this once-in-a-lifetime experience?
"I'm generally hoping that there is a greater appreciation across the board," Isaacs said, "that maybe we could respect more how fragile things can be and how quickly they can be lost."
For this reason and others, Isaacs is excited about the return of Central Hardin's student population of 1,878 returning five days a week on April 12. 
"What I've learned over this past year is a greater appreciation for why I do this, because when you weren't here, it got very hard for me to do it."
In a survey conducted by The Central Times in early March, 25% of the 214 students and staff who participated shared Isaacs' desire to return to a five-day week. 55% said they would prefer to remain on the hybrid schedule, and 20% were undecided.
So what concerns prevent 75% of Central Hardin students and staff from being gung-ho about returning?
The most prominent concerns shared in the survey involve social distancing, more populated hallways, adjusting to a new routine, and wearing face masks five days a week instead of two or three.
Since the survey was conducted, the CDC changed guidelines from six feet to three feet for distancing in schools. This change makes it easier for school administrators to manage a full population, but it doesn't necessarily create enough space for all students in all of their classes. As a result, overflow rooms are the plan.
On students' last NTI day on March 17, administrators visited each classroom in the building to determine how many students can fit into each classroom with the new three-feet distancing guideline.  If teachers have more than the determined number of students in their classes, the extra students must travel to a different room for that block and participate in the lesson virtually with a chromebook and headphones (provided by CHHS for students who don't have their own). 
"(To choose) the group of students, I would first ask for volunteers," Isaacs explained. "Teachers can do what they want, but it cannot be due to a teacher's personal preference. Overflow teachers are going to have approximately three different classes in one room, and the overflow teacher will have to keep up with seating arrangements. I want the overflow teachers to know what kids they are supposed to have on each day (this kid is Monday, this kid is Tuesday, etc.)."
One way to combat the need for overflow rooms is to seat students in pods (four students seated together at a table or at a group of desks), which is approved by the state, Isaacs said. 
"Primarily I chose (pods) because I wanted to get as many students in my room as possible and if a student is in an overflow room, I don't have direct access to them," biology teacher Jared Eaton said. "They can hear my lecture but I can't answer their questions and I can't check on them for understanding."
In some science rooms, students can be placed in pods and remain three feet apart.
"Pods specifically allow me to get as many students together in a small space, keeping them at a distance while they are in the pods," Eaton explained.
In some classrooms, students in pods will not be three feet apart from each other,  which could explain why "very few teachers" are choosing pods, according to Isaacs. Since the approval of pods is a state decision, Isaacs doesn't know the rationale.
"The last year has been consistently inconsistent or consistent contradictions," Isaacs said.
Regardless of the seating arrangement, face masks will still be required. 
"We're wearing masks because that's what the understanding is . . ." Isaacs said. "I'll tell you what administration is going to do: they're going to enforce it. That's what we're going to do unless there is a medical necessity that says otherwise, and I'll need something in writing from a doctor." 
For some students, wearing a mask five days a week was not at the top of their list of worries. Maintaining job schedules seems to be a major concern for many high school students. 
"It's going to mess up our work schedules, and it just isn't safe for our school," senior Kaiden Kendricks said. "If we're only doing it for [six] weeks, what's the point? Why don't we just finish it like this [on the hybrid schedule]?"
The stress associated with adapting several different times throughout the year is something that the entire world has had to deal with, and schools are no exception. 
"As much as I want to be back to normal, I don't think this is the time to do it, just because we have already made several changes and gone back and forth," Spanish teacher Susan Holbrook said. "We're having to change our lessons again, you all are having to adapt. I just think it would be more useful if we had better preparation to go back next school year, and continue out this school year the way we are doing things currently and make sure we have a good plan for next year."
With a large percentage of teachers feeling that waiting is the best option, this begs the question: why is it so important to resume to five-day weeks now?
"The people who are making these decisions are under tremendous pressure to get these things reopened," Isaacs said. "What they're also recognizing is what we don't wanna talk about, but it is very, very real: the social and emotional impact this has had on teenagers. It's actually more damaging than the virus itself. So what they're saying is 'I'd rather have kids in a pod together getting the flu [comparing teenager COVID-19 symptoms to those of the flu], than the damage we're doing leaving them at home.' We are wired as social beings, it's what we are."
In a survey released by The Central Times on March 19, an anonymous teacher offered a different perspective.  
"As people we can only handle so much turmoil before we get to a breaking point," the teacher shared. "I hope that this change isn't mine, but we have had so many changes this year I fear it might be. Many of my students are uncomfortable with the change and helping them adjust will be my main priority. This year has been emotionally tough on so many and the worries I have for them continue to increase." 
An anonymous sophomore agrees with Isaacs about returning but still doesn't feel that HCS values students' mental health. 
"I think we should go back to school five days a week," the student wrote in the survey. "School allows students to learn while also being with people their age. When I lose my contact with other people, such as I did during NTI or even somewhat now, I lose my motivation to do my assignments, and don't see a future worth working towards. The school district has shown just how much they care about students' physical health, but apparently students' mental health is not a priority. Not that it's ever been before, either."
Many social gatherings such as dances, club events — even prom and graduation for seniors — were canceled in the spring and fall. An outdoor event called "Seniors Under the Stars" and a modified plan for walking the graduation line were approved for the Class of 2021 in late February. When HCS announced on March 9 that high schools would be returning to five-day in person instruction on April 12,  many seniors wondered if a full prom and graduation experience would also be approved. 
With a capacity limit at 25% for indoor and outdoor activities, meaning that students could possibly only have one guest in attendance, the answer was no. 
"Having classrooms with 30 kids is nothing like having a gym with 4,000 people," Isaacs said.  
"So what would you rather have? Would you rather have the opportunity to all be together as a class for a 'ceremony' [or] be able to bring ten family members and let them be up close and see you walk the stage?"
"Seniors Under the Stars" will also remain in place. 
"I'd love to give you a prom, I love prom. That's always my favorite," Isaacs said. "It's just fun to be around y'all, but I can't have 100 of y'all all together on a dance floor. And some years it's 250. We're going to have dancing, you just kind of need to spread out more. We'll be outside and spread out."
So what about the 1,878 students who will be traveling, albeit one-way, to class five times a day?
"You're in the hallway for six minutes," Isaacs explained. "You don't get any contact trace on that. You pass a kid who has COVID in the hallway, you're not getting it that way, and the data supports that." 
That explanation may satisfy the concern for spreading the virus during class changes; however, students have a different concern: getting to class on time in six minutes while traveling one way.
Arts and Humanities teacher Isaac VanMeter shares students' concerns.
"I think it was a push before the one-way hallways for you all to do anything in six minutes," VanMeter said. "In my opinion, if they haven't given you any more time using one-way hallways, they need to."
Since VanMeter was interviewed, the administration has decided to change the bell schedule to seven-minute class changes, which went into effect on March 30.
"Flexibility" has been a buzz word for the last year as the Central Hardin community has navigated through the pandemic, and that's not going to change now. 
Isaacs said the first few days will be "chaos."
"Growing up the way I grew up, in the environment I grew up in, I learned to roll with the punches very, very early," Isaacs said, "so I tend to just move on. Even when I'm not happy, I just move on, because that's how I survived."
Regardless of your feelings about adapting to yet another change in the last year, there's no doubt that if you have grandkids someday, they will hear your stories about this monumental period in history.