CoJo: Coaching Skill and Character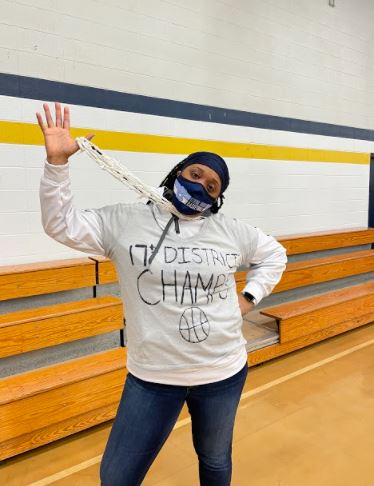 If you go to Central, the name Kristina Covington-Jones might not ring a bell. You probably are more familiar with the name CoJo. Whether you know her from having her in class or from coaching the girls basketball team to some pretty historic wins this year, you probably don't know what makes CoJo, CoJo.
"What's funny is, I was a cheerleader first," CoJo said. "I was the tallest and loudest cheerleader of all. Then Coach Mudd [her high school basketball coach] told me that I needed to play basketball in the 7th grade, and I fell in love with the game." 
CoJo didn't just play basketball in her middle and high school days, she played for the Elizabethtown Panthers.
"I was really hesitant (to coach for Central) because I had always been an E-town Panther and E-town Panthers do not like the Central Hardin Bruins. It was a lot to get used to but… I am an alumni of E-town but I'm a Central Hardin Bruin." 
CoJo was a significant part of the Panthers squad in her high school years. She was runner up for Kentucky Miss Basketball and ultimately helped her team to winning the state title in her senior season.
CoJo went on to play college ball at Western Kentucky University where she earned the title of Freshman of the Sunbelt. She was the first Western player in history to win this award.  
After college, CoJo played for five months overseas in Israel with some of the players from her college team. 
Ultimately though, CoJo found her true calling in coaching, rather than playing.
"I always wanted to be a coach. When I went to college I wanted to be an athletic trainer/coach. But after I had to take anatomy in college I realized I wanted to be a P.E. teacher," she joked. 
CoJo began her coaching career at North Hardin coaching the Lady Trojans and then moved to coaching at Central the following year. 
"When I got here, it was back to rebuilding," she shared. 
When CoJo was in high school, girls' basketball in the 17th district was a constant battle between the E-town Panthers and the Central Hardin Bruins. However, as years passed, the Bruins began to fall behind in their winnings and the constant battle seemed to be lost. 
Over the past few years, though, the girls basketball program here at Central has made huge strides forward in their winnings, and ultimately, this year, winning the district title for the first time since 1999. 
It's clear to see when watching the girls' basketball team play that they have undeniable chemistry on as well as off the court. "This group is special," CoJo shared, "but we've had to build to get where we are." 
When asked what she feels makes her team so strong, CoJo shared that, "adversity makes us stronger. My girls have faced adversity, they've come from nothing to something. They wanted to be great and they made that for themselves." 
CoJo also shared that her current team offers a unique experience as players.
"Athletic ability is important, but heart is more important to me. When you have the chance to put both of those together, that's when you get what we've got this year." 
CoJo doesn't lay all of the success to just her current team though. 
"The girls who went through the mud, who got killed by 20 or 30 points, they made this program what it is today." 
CoJo shared that the best part of coaching girls' basketball is being able to represent as a black female coach in an area where mostly men dominate the profession.
"It's nice to be able to have this job, especially because I get to coach girls, I feel like I can relate to them on many different levels," she shared. "I may be hard-nosed on the court, but those girls know that they can come to me with anything and I'd help them." 
Ultimately, CoJo said that what's most important to her is her players having "success in the real world" and not just on the court.