Kayla Ditto's Return to Central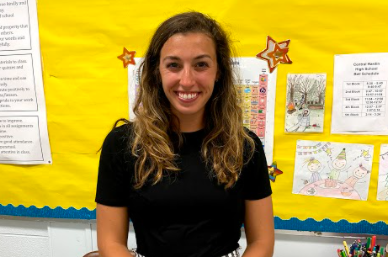 Kayla Ditto was one of our first-year teachers this year, and this year was definitely not an easy year to start out with. She said she was "open-minded" about this new school year, because she "wasn't used to anything before."
Ditto graduated from Central Hardin in 2016 then went onto Western Kentucky University to become a chemistry teacher. When she was at Central, she co-opped in the office, was a part of the tennis team, Beta Club, and FCA. She was also president of Varsity Club (renamed Pep Club), and vice president of the Executive Council. Since she was very involved with Central in high school, she knew she wanted to come back. She said she "has always been a homebody" and it was an "easy transition since I knew this place and worked in the office."
Transitioning back to everyone being at school five days a week has taken a toll on many teachers, especially first-year ones. Ditto says the scariest part of this transition was that she's "never taught this many people, and the classroom management was more difficult." She also mentioned that "everyone was always needing her at once." But since she always knew she wanted to be a teacher from when she played it as a kid, she knew she would get used to this adjustment.
The pandemic is the largest factor for the changes and difficulties in almost everything we do, so there is no doubt that it makes teaching high school students much more difficult. But Ditto perseveres and says, "Everyone is struggling which helps me, knowing other teachers are having a rough year, too." She also says teachers are given more grace. 
Although having a difficult first year, there are so many positives for Ditto. She loves "being there for anyone who needs, helping prepare kids for college, and being a positive influence." Her favorite moment as a teacher was helping a student get into pre-dental school at the University of Louisville, and she also loves building relationships with students. Ditto is loving her time here at Central, and we all love her as well.