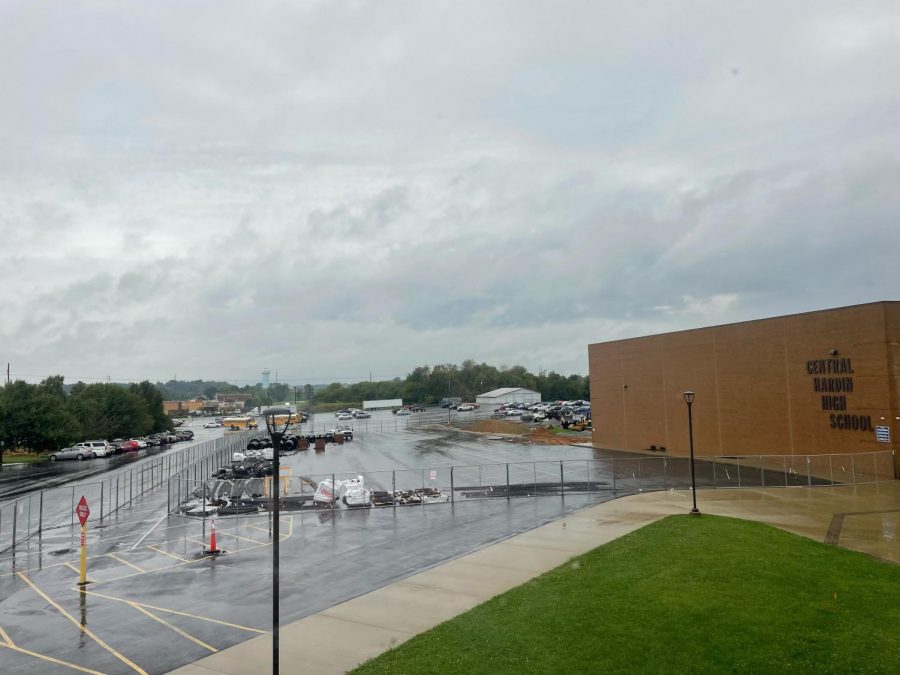 Claire Prater
The parking situation for students at Central Hardin is certainly more hectic and confusing than it has ever been before. Students are now having to deal with the confusion of where they can and cannot park and the worry of if they are even going to be able to park in the school parking lot at all. 
"I'm not the biggest fan of it," senior Nick Lennon said. "I don't like the uncertainty of where I'm going to be able to park every day." 
The parking lot at Central Hardin looks very different than it did this time last year with the bus parking moved, a blue line marking where students can and cannot park, a fenced in walkway for students to use to get to to and from the parking lot, and a large fence blocking off most of the parking lot– all due to the construction currently being done to the school. 
"It was better than we thought it was going to be," principal Tim Isaacs said.
Isaacs said that the construction company originally said that there would only be 152 spots available for students. That was a slight problem because in July there were 88 co-op students and counting. 
Co-op students were the first priority to getting parking spots when students started to request them at the beginning of the school year. Isaacs said that he and Mr. Corley both went out and counted the available spots after being told they had so few to use and they found out the math was wrong. Hardin County Schools Director of Student Transportation Chris Corder came to the school and helped Isaacs and Corley determine every spot possible for students. 
Isaacs also said they "got real creative with the co-opers" by moving them to the bus parking in order to free up more space. The fence that students walk through in order to get to the parking or the "cattle chute" as Isaacs referred to it, will eventually be pushed farther out to the student parking spots by the trees. 
The plan is to have more spots picked up by the time the fence is moved and the spots located near the trees are gone. The barn used by the band has been cleaned out and will be torn down in order to make more space and add some new spots. Isaacs said he told them that "the barn has to come down before the fence goes out." 
In the meantime, students are forced to adapt.
"It's rough, but there's not much you can do with the construction going on," senior Sam Christensen said.