The Met Gala: A Look Into Another World
Fashion, Art, and Everything Beyond the Carpet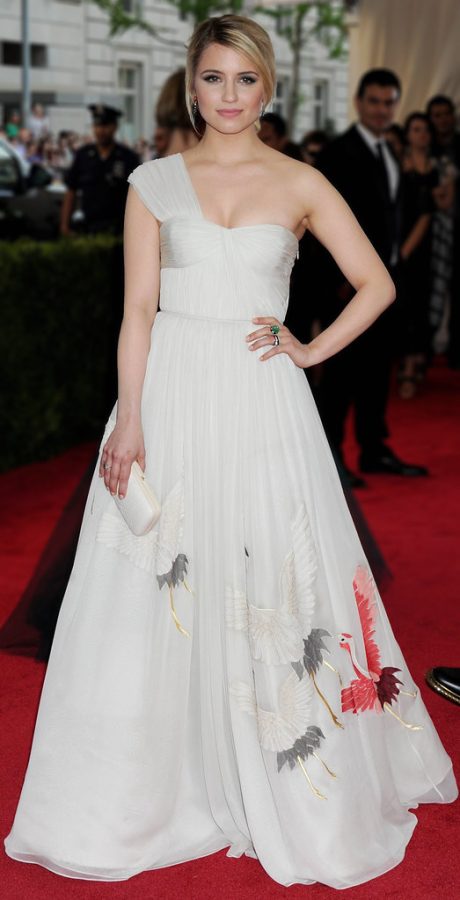 Have you ever wondered what happens inside the walls of Anna Wintour's Annual Met Gala? What happens when all the paparazzi are gone, and when the biggest stars in the world get off the long red carpet? Well it's time you learn the ins and outs of what goes on at one of the biggest events held in New York City. 
The Met Gala is an annual event held at the Metropolitan Museum of Art. It started in 1948 by American fashion publicist Eleanor Lambert. Now, journalist Anna Wintour takes charge of the Met gala. It is a fundraising event where all proceeds go to the Metropolitan Museum of Art's Costume Institute. The Met Gala officially opens the Institute's annual fashion exhibit for that year. 
With lots of fashion come lots of ideas. So every year there is a different theme to the Met. Past themes have included Camp, Religion, and Punk. This year's theme of 2021 was American Independence, so you can bet the biggest stars knocked it out of the park. 
Now the biggest question that arises in our minds is how do you get invited to the Met Gala? The most common ways include donating lots of money to the Costume Institute, being a celebrity, or dating a celebrity. 
Obviously, getting an invite to the Met might as well be like getting an invite to have tea with the queen. 
Fashion is the biggest and most memorable part of the Met. It's the thing that people will be quick to pick on, so picking looks and designers is a very important task. 
One of the most fashionable moments of the night is when singer Billie Eilish walked onto the carpet.
Her look was actually inspired by the Holiday collection Barbie dolls, where she had makeup artist Rob Rumsey complete her look. 
Rumsey is a Los Angeles makeup artist who excelled in the arts at a very young age. When he was just a teenager, he developed a love for makeup.
When sitting down in an interview with Seventeen magazine he talks about how he came about the look for the international superstar. If you've seen Eilish on the carpet, you know that her eyes were the star of the night.
"I always start with the eyes when they're a little dramatic," he told them. He then moves onto exfoliating her lips which he told Seventeen is a "can't skip" step in his process. After that, he moves onto her foundation, concealer, and blush.
"To finish, I dusted the skin with the new Supernudes Face Palette in Nudegasm to give dimension and glow," he told Seventeen. 
Rumsey also says that he definitely felt the pressure for this project. Wouldn't we all feel the pressure of glamming up a Gen-Z superstar for one of the biggest nights in fashion?
Famous poet Amanda Gorman blew the red carpet away with her beautiful and sparkling dress, though. 
"We had the idea of me coming as a reimagined statue of liberty,"she told an interviewer at the Met.
The gown was Vera Wang designed, with a royal blue color and a high-low hemline. She also matched it with a pair of heels, diamond sapphire earrings, and a crystal headpiece branded by Jennifer Bher.
The most memorable part of her outfit was a purse she held, shaped like a book that said, "Give me your tired." Gorman says it is a line from a poem called "The New Colossus." 
While at the Met Gorman was interviewed by famous YouTuber, and a co-host of the Met Emma Chamberlain.
On Chamberlain's YouTube channel, she posted a video of herself getting ready and mentally preparing for the Met. 
The first four minutes of the video start out with her in her bathtub talking to her camera and millions of fans, two days before the Met.
"Ever since I became aware of what the Met Gala was, it's been one of those things that was so fascinating to me. The Met Gala to me has always seemed like something that was completely unattainable for me," she says. "I'm going in two days and I cannot believe it."
The next day, she gets her hair done, stops at a coffee shop, goes to a park, and then gets her nails done. A pretty relaxed day for someone who is about to attend the biggest event fashion will ever have. 
When she gets back to her hotel room, though, she has a bit of a serious talk with her camera. 
"I think the biggest thing is that I'm definitely kind of emotionally exhausted," Chamberlain said. "It's kind of all I've been thinking about. Even though I'm very excited about it and there's like no negative feelings about it whatsoever, it's still like weirdly emotionally exhausting. To be like so hyper and fixated on like one event. It takes a lot of energy to like fixate on something that hard. Everything that I've been doing everyday, has revolved around tomorrow."
Well tomorrow came and it was finally time to attend the 2021 Met Gala. The last few minutes of the video feature her doing the last minute touches of getting ready. 
Makeup, hair, heels, and dress, she looked beautiful in her final look for the Met.
Now with all things entailed, the Met is one big showcase of art.
In fact, almost all designers of fashion are inspired by art.
One of the most famous art and fashion exhibits at the Met is "China: Through the Looking Glass." Which is a collaboration between the Costume Institute and the Asian Art Department.
"The show really isn't about China perse, it's about the image of China that exists in the Western imagination," said Andrew Bolton, a curator at the Costume Institute, on the Met's YouTube channel.
"With all our exhibitions, we try and tell a story. The looking glass, which is based on Lewis Carroll's novel, Alice entered this world that was fictional. The designers in the exhibition approached China in a very similar way." 
One of the most popular things in the exhibit is a very extraordinary Chinese robe.
"When you walk into our Costume Institute galleries, there's a video tunnel showing Bertolucci's 'The Last Emperor.' A broad and sweeping journey of Chinese history, and at the end of the tunnel is a festival robe worn by the last emperor Puyi when he was four years old", says Bolten.
Another popular section is a series of dresses in the exhibit that was inspired by blue and white porcelain in China.
No matter how you're interested in the Met, whether it be fashion, art, or just to see what celebrities will show up, it is a safe house for art of the past, present, and future and a fashion designer's biggest inspiration.