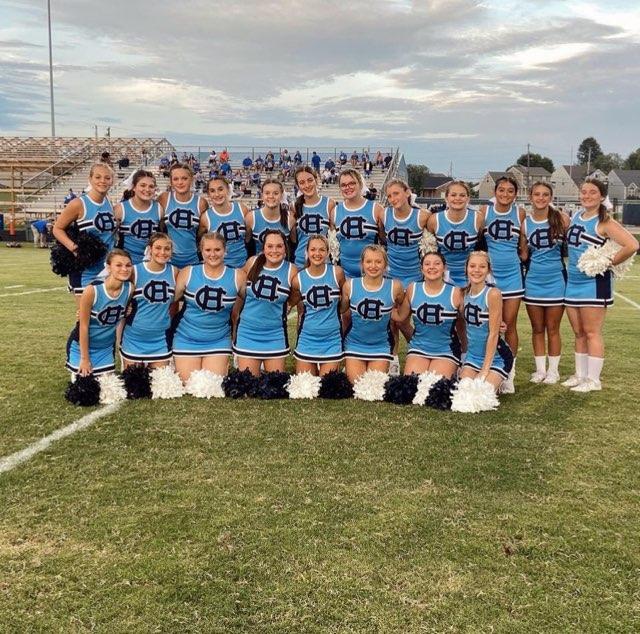 Courtesy of Amelia Avey
On November 13th, the cheerleaders competed in their National qualifier competition at Rupp Arena in Lexington, Kentucky. In their competition, they got 4th in the qualifier competition which was enough to qualify for nationals. All the hard work put in over this season had paid off in the end.
The Bruin cheerleaders will go to Disney World this February to compete in the UCA Nationals. This competition is going to be a big challenge to prepare for, but the Bruin cheerleaders have many good strategies to prepare over the next three months.
"We are going to have to make our routine more difficult and continue to condition and work hard," head coach Paige Wilson said. 
They will have to make sure to use these practices to focus on a harder routine and conditioning so the Cheerleaders can perform their best at Nationals.
With all the injuries that occurred this year,  but making it to Nationals was a huge step for the team. There are currently two girls with concussions and one with a sprained ankle. Before nationals, the team is hoping to get many of their players back from injury. Injury has hurt the Bruins this year, but they are hoping that many of those players are back by February.
"We have a talented and hardworking team who perform well," junior Lexi Clan said. 
This year, the Bruins have many younger people on the team, but that's not holding them back. Many cheerleaders on the team feel they have what it takes to take their competition and energy to the next level. 
This year, there is a lot more youth than you would think just by watching them perform. They have multiple freshmen and 8th graders on the team, which is a much younger group than normal. Many girls on the team are still learning and getting used to all the hard work required but that obviously isn't causing them any setbacks.
"We've had several girls who have tested positive for covid and we've been shut down 2-3 weeks in total," said Coach Wilson. 
During the pandemic, the cheerleaders are really trying hard to stay on top of all the protocols. Although the pandemic had affected the cheerleaders more this year than ever, they still are headed to Nationals in February. 
"We can't get in our own head mentally," said Lexi Clan.
With all the problems with injury and the pandemic, the Cheerleaders are having to stay focused mentally. Being prepared mentally will help just as much as being prepared physically for the cheerleader's upcoming Nationals competition.