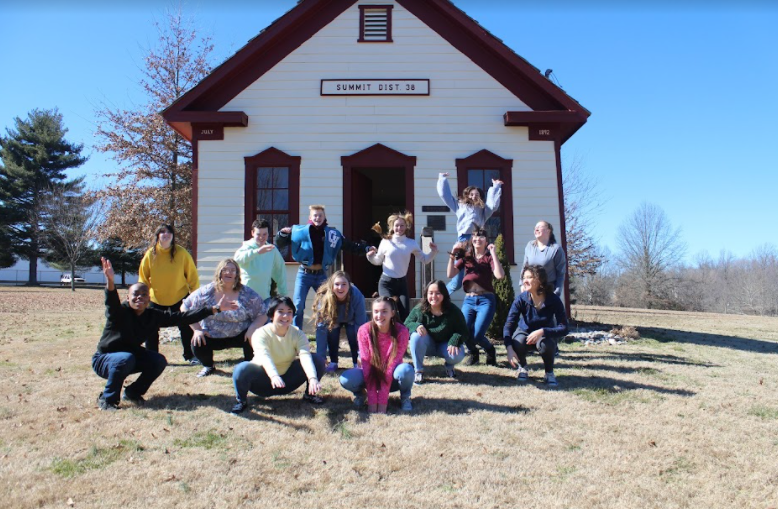 Rosalie Batistoni
Central Hardin Drama will be performing at the PAC this Friday at 7 pm and Saturday at 4 pm. The show, Schoolhouse Rock, based on the animated children's show that aired on television from 1973-2002, is sponsored by Sarah Dakin, featuring cast members Garrett Milby as George and Alyssa Vittitow as Dina. 
Since the audience of this play is younger kids, this show stands out from others. The historical background of the original Schoolhouse Rock, which was designed to educate children through short musical films between Saturday morning cartoons, has had an effect on how drama has modified the play. 
"We wanted to update the perspective on a couple songs, like 'The Great American Melting Pot' and 'Elbow Room.'" Dakin said. "We wanted to expand to broader and inclusive ways to look at history."
Garrett Milby, first year drama student and sophomore, and Dakin say it was a difficult process preparing for the play, as they had to do a lot of rehearsing over zoom calls on snow days, but it was all for the greater good. 
Dakin encourages students in drama by giving them jobs she knows they can handle. 
"I tell them often that I'm not going to give them a job I don't think they can do," she said.
The team displayed this hardworking attitude on the difficult days of zoom rehearsals. 
"The day we were working on the 'Verb' choreography really stood out to me, that here were all these kids hanging in through a tough situation teaching each other dance moves over a video call for the greater good," Dakin said.
"The people you interact with just help bring up your day and make you a better person," Milby said. 
Vittitow, a fourth year drama student, agreed.
"[Being in drama] is like having a second family," she said.
The cast members and leaders are excited for you to see them on stage this weekend, so don't forget to show up at the PAC this Friday at 7 or Saturday at 4. Be sure to bring a parent or grandparent who may have grown up with these shows and a younger sibling who could learn something new.