A Day In The Life of Losing a Bet
I'm a Kentucky fan through and through. Born and raised cheering on the Wildcats. So, you may be wondering why I was seen representing the Kansas Jayhawks on Feb 9. 
I have two words. Jonathan Fairbanks. 
Mr. Fairbanks is a well-known and loved science teacher here at Central Hardin. Students may know that he teaches biology and that he currently serves in the U.S. Air Force. But if there is one other thing I know about Fairbanks it's that he's a Kansas fan. The biggest Jayhawks fan I know. 
Obviously, with Fairbanks being such a big Kansas fan, and with me being a giant Kentucky fan, we didn't hesitate to make bets on who was going to win the Kansas vs. Kentucky game on Jan 28. 
"Of course I wanted to make this bet.  It was a no brainer.  We have Grady Dick, the All-American Diaper Dandy who can drop 20 on any given night,"  Fairbanks said. "Along with a bill Self, and his hair piece, who can design an out of bounds lob play faster than Calipari can pay for another McDonald's All American."
Spoiler Alert: Kentucky did not win. 
So that's how I got myself into wearing a very Kansas-themed outfit a few weeks after my Wildcats were defeated by the Jayhawks. This is how my day went.
I started off the day with a simple Kansas sweatshirt and jeans, trying to keep it casual for the day I paid my dues for losing the bet. I was immediately shocked when I walked into Fairbanks's room and saw all of the props he had to go with my outfit.
During first period, Fairbanks was sure to keep me hydrated by bringing me a cup of water. This cup also had a very ugly Jayhawks sticker on it. 
Halfway through my second period, my algebra work was abruptly interrupted when Fairbanks brought me a KU teddy bear to pose with. This wasn't any old bear, this was a bear passed down from Fairbanks's grandmother that I was honored to hold for a quick pic.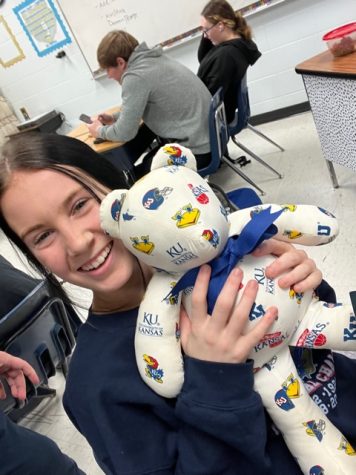 To start off my third period class I had to pose with a much too large Kansas themed sign. I must admit it is both impressive and kind of unnerving that our science teacher just has this lying around his house.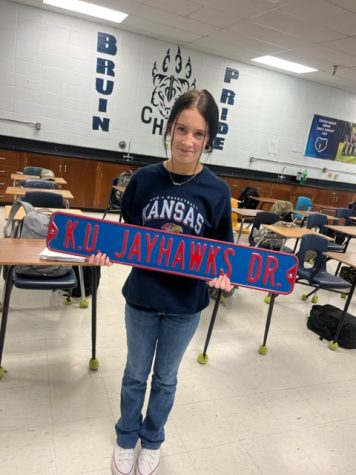 Once I made it a good way through my fourth period, I thought surely I was in the clear from Fairbanks's shenanigans. But as I was starting to relax and answer my teachers questions, I was rewarded with a Kansas medal for answering a civics question correctly.
Finally I had made it to the last period of the day.  I was not feeling relieved, because I had Mr. Fairbanks for biology that block. I knew I was in for the worst of the bet at that point.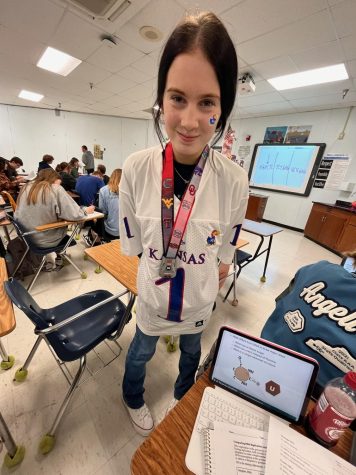 By the end of fifth block, I was decked out with a Kansas jersey over my Kansas sweatshirt, the "Big 12" medal around my neck, a Jayhawks sticker on my face, and I was drinking out of my Kansas cup. Somehow I stayed a good sport while looking like the most obnoxious Kansas fan there ever was.
So if I learned anything from "Kansas Day" it's to never make a bet with Mr. Fairbanks, and if you do you better pray that your team doesn't lose.