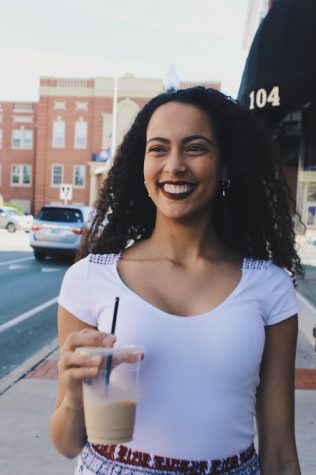 Hi friends! I'm Alloria Frayser and I'm a senior here at CHHS. This is my first year with The Central Times, and I'm so excited to be a part of this wonderful staff! As a staff, it is very important for us to give the students of CHHS a voice. We make it our mission to make sure every person feels represented and supported in some way, shape, or form. I make it a personal goal to write about what's truthful, what's trendy, and what I think may be interesting to my peers. I am looking forward to learning a lot about myself, my fellow staff members, and my classmates throughout the school year!
Outside of school, I am very active in the performing arts. I am often participating in productions at the PAC, HCP, or the CHHS Drama Club! I am also a GSA Musical Theatre Alumnus of 2018. Theatre is my passion, so you will probably see me writing about all things music. theatre, and overall artistically creative. If you'd like to know, my favorite musical is Rent. As far as school involvement, I am active in the Beta Club, Y-Club, Pep Club, Yoga Club, Advanced Mixed Choir, and Chamber Choir. Because I am so active in many extracurriculars, I find it very important to have some me-time. In my alone time, I am most likely listening to show tunes, watching Netflix (my faves are Parks and Recreation, New Girl, Crazy Ex-Girlfriend, Big Mouth, Jane the Virgin, and The Fosters) or cuddling with my cat, Lucy. They are my absolute WORLD. I also have an unhealthy obsession with thrifting, Harry Styles, and 3-part harmony.
I hope you know a little bit more about me now, and hopefully, you don't think I'm completely too incompetent to contribute to an online newspaper. If you'd like to know more, find me in person or on social media! I love talking and making friends, so don't hesitate to start a convo!
"No Day but Today" ~ Rent
Alloria Frayser, Staff Member
Apr 11, 2019

Advanced Mixed and Chamber Choirs earn distinguished rating at KMEA Choral Assessment

(Story)

Mar 01, 2019

Consent Matters: Part Four

(Story)

Feb 13, 2019

Tia's Top Ten: Valentine's Day Edition

(Story)

Feb 05, 2019

Consent Matters: Part Three

(Story)

Jan 10, 2019

Consent Matters: Part Two

(Story)

Dec 13, 2018

Freshmen win 2018 Coin War

(Story)

Dec 12, 2018

Consent Matters: A Series

(Story)

Dec 01, 2018

Bruin of the Week: Peer Mentor Laine Gaddie

(Media)

Nov 14, 2018

Tia's Top Ten – Thanksgiving Edition

(Story)

Nov 08, 2018

CHHS Drama Club holding auditions for The Crucible

(Story)

Nov 07, 2018

HCS officials explain district's religion policy

(Story)

Oct 25, 2018

Coach Ernst resigns from girls soccer coach position after 12 years

(Story)

Oct 15, 2018

Football Homecoming 2018

(Media)

Oct 12, 2018

Isaacs' September Challenge Winners

(Media)

Oct 10, 2018

Tia's Top Ten: Halloween Costumes

(Story)

Sep 26, 2018

Mayoral forum catches student attention

(Story)

Sep 20, 2018
Sep 19, 2018

How to win spirit week

(Story)

Sep 17, 2018

Where's your school spirit?

(Media)