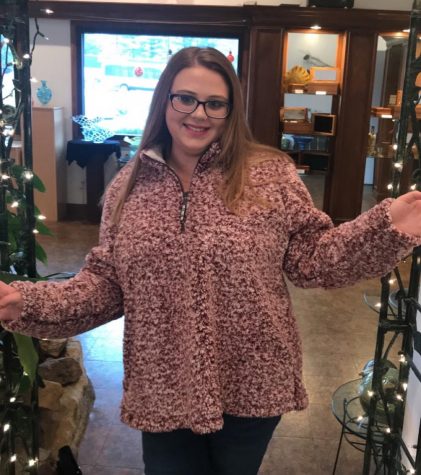 Hi, I am Dailey Harris and I am a Central Times Staff Member. I have been a part of the Central Times Newspaper for two years. This year, my focus is to help you as a reader become more aware of the school news and have more options for your student voice to be heard! I am open to any ideas if you have them, so fill free 
I am apart of many wonderful activities here at Central Hardin. These include Yearbook, Spanish Club, Peer Tutoring, and Student Council. In my free time, I love to write, volunteer and spend time with my wonderful family and friends.
In my future, I plan to go to college and Major in Communications, and a minor in Spanish. I strive to become an lawyer, advocate, or a translator.
Dailey Harris, Staff Member
May 30, 2019

You've got a friend in me!

(Story)

May 30, 2019
May 24, 2019

Tristan Edblom wins the talent show for the 2nd year in a row

(Media)

May 01, 2019

Build-A-Card

(Story/Media)

Mar 27, 2019

Central welcomes new staff

(Story)

Mar 14, 2019

Monsters invade first grade class at Lincoln Trail Elementary

(Story)

Mar 13, 2019

Yearbook quote and senior ads due Friday

(Story)

Mar 22, 2019

President Jackson Flanagan asks for ideas

(Media)

Feb 28, 2019

Academic Team advances to state!

(Story)

Feb 13, 2019

Get a head start on your college connections!

(Story)

Feb 08, 2019

Scholarship Central: Free Money Fast

(Story)

Jan 17, 2019

Bruin of the Week: Madison Fogle

(Story)

Dec 21, 2018

Bruin Of Week: Devon Heath

(Story)

Dec 11, 2018

Bruin of the Week: Junior Ethan Haley

(Story)

Dec 01, 2018

Bruin of the Week: Peer Mentor Laine Gaddie

(Story)

Nov 30, 2018

A Custodian's Best Friend

(Story)

Nov 30, 2018

Beta Club volunteers with Habitat for Humanity

(Story)

Nov 19, 2018

Bruin of the Week: Artist Allessandra Thomas

(Story)

Nov 12, 2018

Paying respects to those who served!

(Story)

Nov 09, 2018

Are you a good student? PBIS has a reward for you!

(Story)

Nov 02, 2018

Bruin of the Week

(Story)

Oct 30, 2018

Looking to share your artwork? Art Club has an opportunity for you!

(Story)

Oct 30, 2018

Cobb initiates social movement within school

(Story)

Oct 17, 2018

Urinetown comes to the PAC

(Story)

Oct 16, 2018

Will the real patriots please stand up?

(Story)

Oct 11, 2018

Learning to Achieve Big Dreams

(Story)

Sep 20, 2018

Isaacs' Challenge of the Month

(Media)

Sep 19, 2018

Students reaching Checkpoints™

(Story)

Sep 17, 2018

Where's your school spirit?

(Story)

Sep 07, 2018

Need college information?

(Story)