Bruin of the Week: Artist Allessandra Thomas
Thomas paints the way to positivity
Hang on for a minute...we're trying to find some more stories you might like.
Behind the work of Allessandra Thomas, is a student artist who aspires to change the stigma behind negative art pieces.
According to the Art teacher and Bruin Art Club Sponsor Whitney Carpenter, Thomas is a "strong artist who will continue to grow throughout her high school years and beyond with the creative drive she has illustrated."
In the Bruin Art Club, Thomas has inspired the Bruin Art Club's sketchbook challenge through her participation in the Inktober challenge.
Thomas's creative talent as a form of personal therapy and a creative outlet. Art to her is more than just lines and colors, but rather a way to show deeper feelings and emotions.
"Art is a way to express yourself or express what you see. It contains many emotions, feelings, and memories," she said. " For me, it [art] can be a way of therapy, but it can also be a way to express myself and focus on bright things," she said.
Thomas is consistently trying to practice her art skills outside of the classroom by taking on a new project inspired by recent trends.
"I am always trying to find time in improving my skills, I am trying to make a comic because I normally don't do those and I seen some people idolizing it, so I guess I would try it.," she said.
Thomas's art pieces usually employ a cartoon or anime style, but she is always willing to go outside her comfort zone and try something new. Through these new styles, Thomas uses them to convey a variety of emotions that the audience many feels.
"I am trying to find different ways to express different emotions to people, but also express it in a certain way so that other people can visualize and relate for themselves."
In the piece, "Fountain of Sorrows", Thomas uses the girl to symbolize specific emotions that someone who feels when they have a negative body image.
"She's looking at herself in the mirror, and the strings are her self-hate towards the thing that they are wrapped around, which is her body," she explained. "The chains represent her thoughts, like her negative emotions and thoughts, and the effect it has on her, like it's hurtful and it weighs a lot. In the water, the reason why it has tadpoles is to show how long she has been crying because the tears represent the water."
Unlike any other artist, Thomas sees both the Yin and Yang reflected in the world and her art.
"Negative thoughts are okay, but there is beauty in it. There is a way to express yourself in emotions in a positive manner," Thomas said.
Even though her art depicts emotional and dark subjects, Thomas also creates pieces that are cheerful and bright, in order to counteract the negativity in life.
"I also go into more cheerful, kind of," Thomas said. "I go between the two because I should accept negative thoughts, it's a coping therapy. You could also see the bright side of life."
An example of a happier art piece is "Food Fight," in which Thomas models abstract art such as the works of Russian artist Wassily Kandinsky.
"It's an abstract piece of art that shows the abstract food, but it is also cheerful because of the vibrant colors, and the theme of the colors show that it is bright and cheerful," she said. "It is all combined and mixed match, and there is no order in it."
According to Thomas, students who aspire to be artists should try to self-motivate and never compare their art to others.
"Always challenge yourself but never give up. Don't compare yourself to others but instead learn off of them," Thomas said. "Also try to express your style, it may look weird at first, but after time you will find it and appreciate it and others will too."
If you would like to nominate a student, please go to https://chhsnews.com/1444/showcase/bruin-of-the-week/  to be featured in our next article!
About the Writer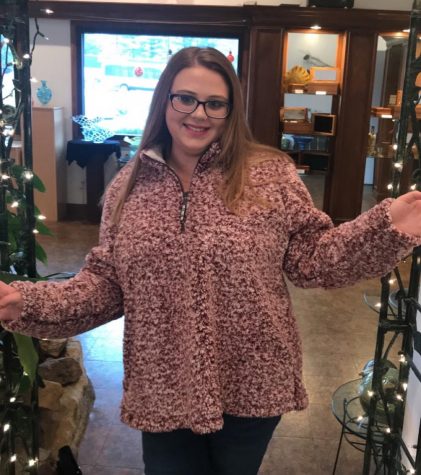 Dailey Harris, Staff Member
Hi, I am Dailey Harris and I am a Central Times Staff Member. I have been a part of the Central Times Newspaper for two years. This year, my focus is to...