A Custodian's Best Friend
Hang on for a minute...we're trying to find some more stories you might like.
Central has recruited a new custodian this year: he has four legs, a tail, and hair all over his body. According to his Hardin County School Badge, his name is Chewy Reed. Chewy is a service dog of custodian and owner, Travis Reed.
According to Reed, he has owned Chewy for a little over three years, and their journey began when he was dog-sitting for a past coworker.

"I was working at a different job at the time, and I had just lost the dog that I had for 12 years," he said. "One of the people that I worked with was raising his [Chewy's] breed, and she asked me to babysit him for the weekend because she was going out of town, and I said 'You're not getting him back.'"

Ever since their instant connection, Chewy became more than just a regular dog; he was soon certified to be a service dog. The Veterans Hospital recommended that Reed should invest in an emotional support dog because it would benefit him greatly.

"He [Chewy]  is used for some pre-existing conditions that I got from the military," he explained. "I got a couple of head injuries that affect my rational thinking process. He is basically my furry conscience before I go out and I do something. I always stop and see him."

Chewy's main job is to alert and help Reed when he is feeling upset so that he can calm down and become aware of the situation. Reed's doctors have seen the positive impact that Chewy has on his everyday life.

"He has been my service dog for almost a year now, so he goes with me to my appointments, and they think it is a great thing and they say I am a completely different person because of it," Reed said.

Without Chewy, Reed has a hard time dealing with day to day stress and has to be extra alert to the situation around him.

"Honestly, because I don't have another eloquent word, it sucks. When I can't take him, I am kind of heartbroken because I don't have my companion with me," Reed explained. "I have to be extra mindful in what I am doing, and it takes a lot of stress on me because I am focused more on myself than my surroundings, and I tend to miss stuff easily."

Every day, Chewy supports Reed by being there for him when he is overwhelmed.

"He is the one that watches my back and makes me feel like there is always someone with me, so I don't get so anxious and overwhelmed," he said.

While working, Chewy has to be groomed, quiet throughout the school day, and can't go into specific areas of the school.

Although once Chewy removes his work vest,the playful side of his personality emerges.

"Every time everyone says, 'Aw, he's so well minded' and 'he's so calm and well-tempered,' that is when he has the vest on," he said. 'When he has the vest off, he is a different dog in himself. He loves to run; he loves to play, he loves to jump, bark, and chase people around the house."

Like any hard-working dog, Chewy sometimes has to relax and spend time with his owner.
"It's usually him and me whenever we are doing something," Reed said.
He loves to play fetch, learn new tricks, ride on the floor scrubber, play basketball (Fun Fact: he is an excellent defensive player), watch T.V, and play games.

Chewy has been such a local celebrity here at Central that even Reed believes more people recognize the dog before him.

"More kids know the dog's name more than they know mine, which I guess is a good thing. It's kind of neat to go downtown and hear, 'Oh, it's Chewy'," Reed said.

Even though Chewy is just a dog, he holds a bond with Reed that shows the true meaning behind "a man's best friend."

About the Writer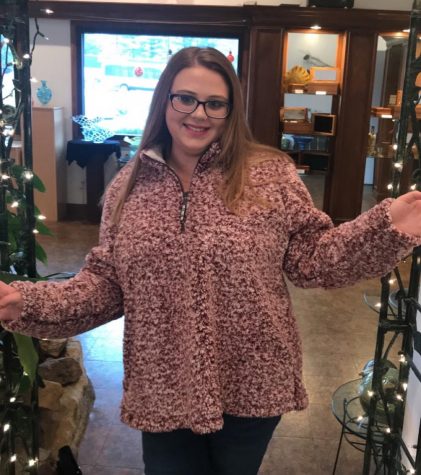 Dailey Harris, Staff Member
Hi, I am Dailey Harris and I am a Central Times Staff Member. I have been a part of the Central Times Newspaper for two years. This year, my focus is to...