Beta Club volunteers with Habitat for Humanity
Hang on for a minute...we're trying to find some more stories you might like.
On Nov 10., Central's Beta Club members participated in a volunteer activity with Habitat for Humanity. According to the Hardin County Habitat for Humanity website, this organization helps "revitalize neighborhoods and build simple, decent, affordable housing for low-income families in Hardin County."
Juniors Lauren Wilson, junior Gracie Osborne, McKayla Collins, and Ethan Haley were assigned to help construct a shed.
Their day began by hearing the cycle behind Habitat for Humanity. A candidate must go through an application process, a meeting, defining the final the cost of the house, and then the construction.
According to Beta Club sponsor Angela Cannon, the experience involved a variety of task.
"They hammered, climbed on ladders, hauled, and cleaned things," she explained.
Denise Winebarger, also a club sponsor, said the students benefited the family by helping them prepare to move in.  
"The family was hoping to move in the week after we were there," she said. "They were waiting to have last minute things such as to have their certificate of occupancy. It brought them one step closer to being able to move in."
The students worked together with the homeowner to build the shed from the foundation up. For many, this was the first time that they used hardware tools to construct a building.
Cannon discussed how the volunteer experience was impactful on the students because it taught them the life skill of how to use tools.
"One girl said, 'This has changed me forever,' and she will never have to worry about needing someone else to fix things for her because now she can use the tools to fix things if she needs to," she said.
Cannon also talked about the overwhelming feeling of accomplishment after completing the shed.
"We felt we were accomplished in the end because we built a whole shed all by ourselves. It was not there when we got there, and it was there when we left," Cannon said.
By the end of the project, everyone made a personal discovery that he or she could do it.
According to junior Lauren Wilson, her favorite part was discovering that through her persistence, she can do anything she sets her mind to.
"Knowing that I could do that [build] and I actually could do it if I wanted to, that was probably my favorite part," she said.
Cannon said the man is moving into the house thanked the students for their hard work.
"The owner was there with us, and he said 'Every Time I  get my lawnmower out, I am going to think of you guys, thank you so much for helping,' she said.
Wilson says that she is glad she volunteered because it benefited the man by showing him a community always willing to help when in need.
"I think it was a benefit the owner because it ended up looking nice and it benefitted him seeing that people care about making it," she said.
Even though the day was freezing cold and they had little experience, they still made the most out of it and helped someone in need.
"It was worth it!" Winebarger said.
Images courtesy of Denise Winebarger
About the Writer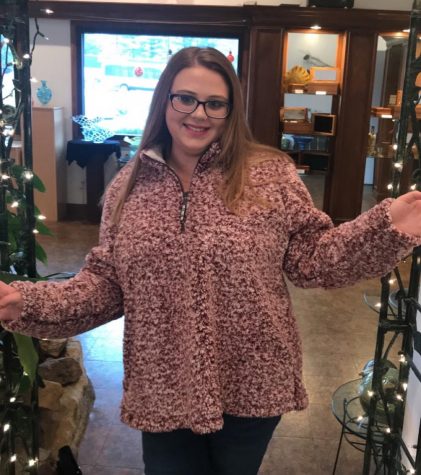 Dailey Harris, Staff Member
Hi, I am Dailey Harris and I am a Central Times Staff Member. I have been a part of the Central Times Newspaper for two years. This year, my focus is to...