Lack of Available Bus Drivers Affects Students
Without bus transportation, some students would be left with no access to their education, and because of this, it is one of the most important parts of student development.
Many Central Hardin students currently sit through long and crowded bus rides, but this is not at the fault of students, drivers, or the school. There is simply a lack of a better option. Because there are seemingly never enough bus drivers, and Central is such a populated school, bus arrangements are tricky.
"I get up at about 5:30 and then I have to get on the bus at around 6:40," sophomore Ruby Boire said.    "Then I transfer at 7:15 to go to the elementary school and then I get to school at around 8. Last year my bus ride was way longer."
While this routine shows that some students have to reevaluate their schedules in order to compensate for bus rides, it also shows improvement in transportation from even last year. Of course, different students have different experiences.
Tiara Mitchell, who rides the bus for just 15 minutes, said "I have two different bus drivers, but they both seem pretty nice and they both seem pretty focused on their jobs."
Jennifer McCoy, coordinator of central bus routes, outlines the process.
"Our first consideration is to pick up students on the right side of the roadway wherever possible for their safety. The routing program we use is student oriented," she said. "If the students are entered into the Infinite Campus program, then they show up on our routing map as a blue dot. We literally connect the dots and the roadways. We have to watch out for time factors and distance as well as bus load. Our goal is to have routes that are no more than 1 hr 30 min and to not have over crowded buses."
Principal Tim Isaacs recounts his time as a bus driver to explain his thoughts behind the issue.
"It's not easy to drive a bus," he explained. "We've had a bus driver shortage for the past several years,It's actually something you see in a great economy. It's not a high paying job, and when it's not a great paying job and the economy is good, there are other opportunities."
Still, Isaacs makes sure to give drivers credit. "Be kind to your drivers because they're really not making much money," he urged.
Isaacs puts the situation in perspective.
"It could be worse, and the drivers do a phenomenal job."
About the Writer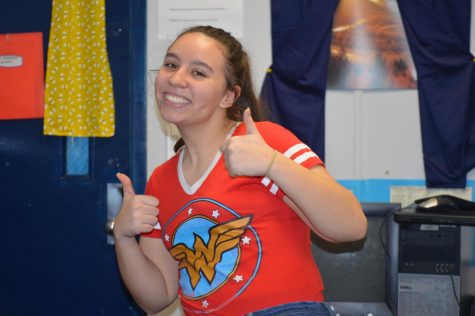 Calei Loy, Writer
Hello, my name is Calei Loy and I am a junior. This will be my first year on the newspaper staff, but I have always been drawn to writing and being creative....