Alumni inducted into the CHHS Athletic Hall of Fame 2019
Central Hardin has had many graduates who were highly appreciated during their time here. Just recently, four alumni were inducted into the CHHS Athletic Hall of Fame. 
The Hall of Fame is a special honor for Central Hardin, the alumni getting the chance to be recognized for their hard work here as former athletes of Central. When students see how special this really is for our school, they get excited for what is to come next. This is a very touching achievement, and it's leaving a mark on younger/future student athletes to feel motivated to be in the Hall of Fame.  
This is the 4th year of the Sports Hall of Fame. There is a committee that takes  votes from the school or the community over a three- to four-month period from former graduates .
"We are blessed to have a great deal of outstanding alumni that left their mark on this school, principal Tim Isaacs said.  "Our athletic hall of fame allows us the opportunity to recognize some of these alumni and celebrate their success." 
The four former students who were awarded this honor this year were Marcus Barnes with the class of 2002, Amanda Miller Prestia with the class of 2004, LeVar Coleman with the class of 1997,and Morgan Cross with the class of 2008. 
Amanda Miller Prestia was a varsity basketball player and played for all four years of high school. She was the varsity team captain her senior year, when her team won the fifth region championship. Presttia was the rebound leader for the Lady Bruins with 1,048, 5th all-time in points with 1,511, and 9th all-time in steals with 231.She is also is the only player in the program to have scored more than 1,500 points and have over 1,000 rebounds.
After high school with a scholarship from the University of Missouri, St.Louis, Prestia was always proud to be known as an athlete.
"I still identify myself as an athlete to this day, and it automatically tells people something about me that's positive," she said.
Prestia has always been motivated to do well in her sport but never considered being honored as a Hall of Fame inductee.
"When I was in high school, I played basketball because I loved the game and I wanted to represent my coaches and my school, with an ultimate goal of playing in college on a scholarship," Prestia said.  "There wasn't a Central Hardin Hall of Fame at the time, so I never thought about being recognized in that way. I am very honored to be inducted this year." 
She played for the Tritons at UMSL for four years and said she enjoyed every moment playing basketball. When she first arrived there, she felt welcomed from the community. Prestia noted that she lived in two different parts of Texas but eventually stayed in Houston and currently works at Rice University as a specialist in engineering leadership.. 
"I love working with college students and helping them figure out how to be leaders in their future careers and figure out how they want to change the world."
In 2011 Presita married Lindsay Presita, who was also a graduate of MSU. Together they have two children, Maggie Rose and Becket. She continues to enjoy her love of basketball as a volunteer coach for a YMCA boys' team.

Morgan Cross was a part of the Central Hardin golf team for six years, graduating in 2008. She accomplished a lot of things during her time at Central including being a part of the State Championship. 
Cross said she was surprised when first notified.
"I was extremely shocked when notified," Cross said. "I was a mix of emotions. It was very surreal and I was overwhelmed with pride." 
After graduating from Central, Cross went on to play golf at Murray State University where she was a part of the two-year conference championships. While at Murray, Morgan earned numerous accomplishments including being part of the 2009 OVC conference team champions and a member of the All Newcomer Team. During her time at Murray, her 2009-2010 season Cross finished in the Top 5 three times as an individual and in the Top 10 four times. In 2010 she was a member of the team that advanced to NCAA Regional's Tournament and a 2010 OVC conference team championship.  
She graduated with a Master's Degree from MSU in Speech Pathology. She has been working with the SLP, who work with adults or children on speech problems, for the past five years in Elizabethtown, and she currently works  Elizabethtown Independent Schools. 
Cross said that she believes that the Hall of Fame is an award that not only shows accomplishments in a sport but honor and class. She advises teenagers not to rush their youth.
 "You'll have plenty of time in life to be an adult," Cross said. "Enjoy being a kid for as long as you can. Be a good teammate and always respect your coach. Do the work and pay your dues. Hard work always pays off." 
LeVar Coleman is a 1997 graduate from Central Hardin as a former track player of four years and football for two years. Coleman still holds the school  record for the Triple Jump and is ranked 6th in the state. He also holds the record for fifth fastest time for 200 mile for our school. Until last spring,  Trejean Sanders senior at Central broke Coleman's school record of 100 meter with a time of 10.88. 
Coleman was presented with an athletic scholarship to the University of Louisville after graduation. He then continued his track career 1997 through 2000. He was awarded third place All Conference in 1998, ran the second fastest 4×100 relay in 1999 with a time of 40.87, and still continues to hold UofL school record of 40.34 from 2000. He graduated from UofL with a Bachelors of Science and Sociology.
He is the father of four kids, Trinity, Cassidy, Amaya, and Chrisitian. He is also a proud grandfather of of Makenzie. He currently lives in Jefferson, Indiana. He works as a Senior Healthcare Economics Consultant at Optum. 
Marcus Barnes is a 2002 graduate. He ran track for three years, played varsity football for four years, and basketball for five years. In track, he was a member of multiple district, region, and state qualifying teams. Barnes's football accolades include a tie for  third in career receptions, for first in touchdowns in one game, and for first in touchdown receptions in one game. As a varsity basketball player, Barnes scored 1,055 career points and made 516 career rebounds. Both ranked together puts him as the fourth all-time scorer in Central Hardin basketball history. He was also named to the All-District and All-Region Tournament teams multiple times.
After graduation, Barnes received a scholarship for football Virginia Military Institute in Lexington, Virginia. He played four years attrong safety. He then majored in Biology and soon returned back home to Kentucky. He currently works as a Division Manager in Louisville for Allergan Pharmaceuticals. Barnes is married to Shari Barnes, and they have two kids: Xavier and Ruby. 
These four alumni and the other Hall of Fame members are very special for our school, it's a bittersweet moment for them and for us. It shows our current athletes how hard work pays off in the end. Congratulations to these four inspirational alumni.  
About the Contributor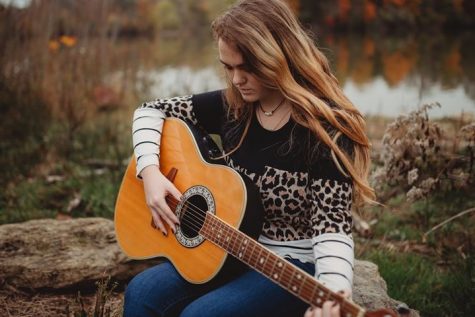 Paige Westwood, Writer
I enjoy listening to music and playing guitar. I listen to just about every genre of music other than country. I am a senior and this is my first year...