The Youth Services Center Door Is Always Open to All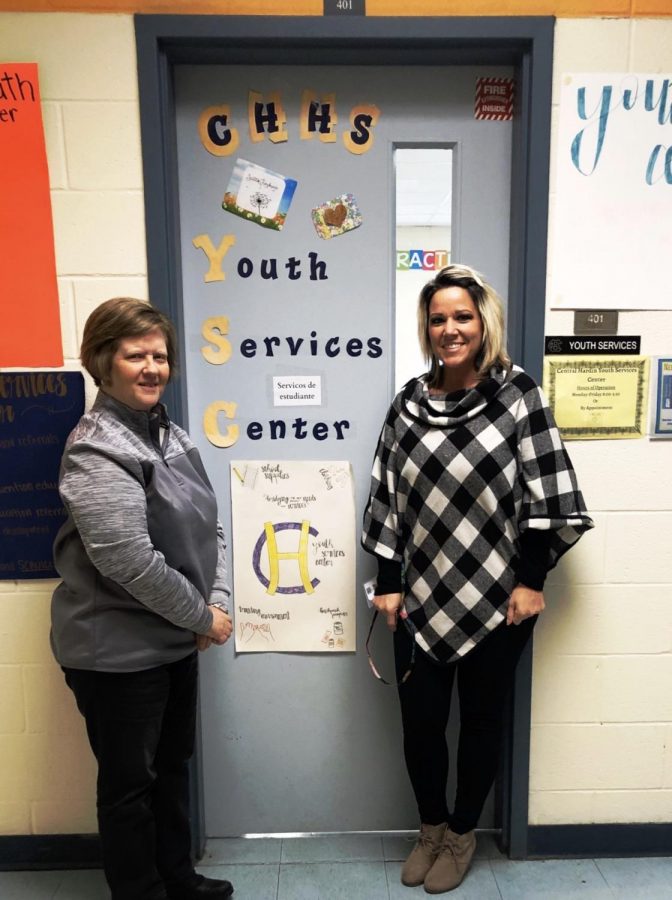 Each school in the Hardin County District has a Youth Services Center, which offers many different services to students such as clothes, food, and school supplies, as well as  mental, emotional, and physical guidance. 
Central Hardin is the biggest high school in Hardin County, so imagine how much work the Youth Services Center does for us. 
The two lovely ladies who take care of this wonderful concept are Carol Bewley-Brangers and Mandy Sanders, teen parent educator. They enjoy every part of their jobs, Sanders said. 
"There are students that come to school and carry so many burdens on their shoulders and knowing they can come here and take that weight off of their shoulders is huge. "
The YSC offers so many options for our students. Their doors are always open to all students, regardless of the situation. 
Any student who needs resources such as new school supplies or even clothes is welcome to come in and grab whatever they need. 
The center  offers school based counseling, which includes a private one-on-one with a counselor, with parent permission, and gives a student a safe place to talk about their problems. With or without insurance, they will always help. 
The counselors always keep in touch with the students, making sure grades and attendance are acceptable. When they see a problem, they act immediately. 
Even free dental care was implemented last school year and has continued this year. It doesn't matter what kind of financial situation you are in, they will help. 
They also provide teen pregnancy classes for boys and girls who don't know where to start. Counselors come in and talk to the future parents and  give advice or guidance. 
Grief and anger management counseling are also offered. Again, these are free with parent permission. 
They have a program called At Risk Teens, and this is for teens who are either skipping or missing school a lot or for teens who are struggling. 
"I have built relationships with students and our room has become a safe place to come to whether they just need to talk or they just want to come by and say hi," Sanders said. "Some have walked in here for the first time so timid and shy and now they come in smiling. I think that reflects on their whole day here."
Carol Bewley-Brangers agrees that the results are positive.
" I have witnessed many positive changes in students after they have received various services from the Youth Services Center," Bewley-Brangers said.  "Students smile more, talk more, have a better attitude toward learning and school, have better grades and attendance, have better self-esteem, and increased social skills in dealing with friends and staff. I wish I could say that all of our services resulted in positive change but I must be realistic."
Bewley-Brangers also said that the ultimate goal of the center is to enable the student to make better choices on their own."I believe that the Youth Services Center inspires students to be independent thinkers and motivated to use all the resources available to be successful in all areas of their lives."
The youth service center is located upstairs in room 401. Sanders and Bewley-Brangers are always willing to help.