Students' Learning Experience During a Global Pandemic
Students share their thoughts on NTI and OLA, while providing information on how to succeed while learning virtually.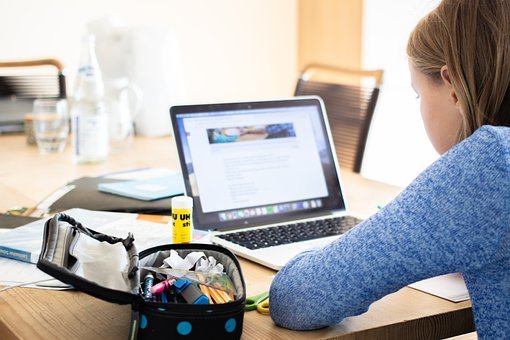 During this time of unprecedented change and disruptions, the functionality of the school system has not been an exception.
Beginning in March of 2020, Non-Traditional Instruction (NTI) was initiated in response to the outbreak of the COVID-19 global pandemic. This was to be continued through the end of the school year, but it was not yet over. Students returned to the in-person classroom in August of 2020, only to return to NTI in November.
Many Central Hardin students finally returned to in-person again in January 2021, some remained in the comfort of their homes by becoming part of the Online Learning Academy or OLA.
OLA is similar to NTI but is not the same. The Online Learning Academy is a semi-permanent alternative to in-person learning while NTI is temporary and reassessed regularly. Those learning through OLA shall continue to do so unless they decide to integrate back into in-person instruction, which can be done during trimester changes.
In-person instruction, for those who attend, is in hopes of continuance from this point on. Students are returning once again to school, but they must continue the A/B scheduling system, minimizing the number of students in the school building at the same time.
The Disadvantages of Virtual Education
Data collected from a survey completed by 191 Central Hardin students has shown that NTI did not seem to be significantly favorable. 65.4% of students would rather be in an in-person classroom.
Students have said that in-person is superior for various reasons, such as complications of NTI.
NTI is strictly completed from home, and this has shown to exhibit issues for students and their families. Many students have said that NTI is hard to complete due to at-home responsibilities, device availability, Wi-Fi instability, mental health problems, time management, communication, and distractions.
Most students stated that there were more assignments and timely ones while doing NTI. With these problems, completing assignments for all five classes was difficult, resulting in a 20.9% drop in the students' overall grades, they said.
"I feel like I get more work done in person rather than online because in person we usually do multiple assignments over one topic, but online we only usually do one assignment, so I don't really retain the knowledge as well," said sophomore Dalton Ferriss.
While students are not comprehending and retaining the knowledge being taught online they were still overwhelmed with the workload during this time.
"Teachers were assigning more work since we were at home, which is harder to get done because we aren't learning the content as we should and they are just pushing work on us," said junior Whitney Feldt.
Retaining knowledge was an issue for many students causing a change in their social lives as some had to give up extra time with friends and family to complete schoolwork.
In response to these changes in social life and life in school, lack of motivation became a huge problem in the online classroom.
"When I'm at home I am very unmotivated to do any work," said sophomore Cailee Tucker.
Junior Reagan Reed shares Tucker's sentiment.
"I have no motivation or structure to do things at home," Reed said, "so since I'm not really being held accountable or given any assistance, no one can expect me to be productive."
Looking at a screen is also exhausting and unhealthy and has also been an issue for a few NTI learners.
"I got headaches from staring at the screen for so long," said sophomore Anna Hinkle.
This negative physical result can be irritating and tiring for a student trying to do work, for that reason and many other contributing factors 57.6% of respondents claimed that NTI is more tiring than in-person instruction.
Some students felt as if their education was suffering for many reasons, such as lack of motivation, chaotic working environments, and inadequate technology access.
"I feel like my education really is suffering…no one ever turns on their camera…I feel like I'm not a good student when it comes to this learning method," said junior Kayleigh Gray, an OLA student.
Due to the lack of motivation and effort, students were not participating in class as they typically would, which affected the education of themselves and their classmates.
"There are other people who live with me, so we all have to do it at the same time and it gets a bit noisy," junior Princess Watts said.
Not having the serene and productive atmosphere of an in-person classroom caused students to struggle with schooling.
"I haven't been doing some of my work…I have to save my wifi for Google meets because it turns off if I use so much each day," said freshman Annie Sheets.
Inadequate wifi and device capability made it difficult for students to move forward with learning without being in the classroom.
The Advantages of Learning Virtually
On the other hand, some students prefer NTI over in-person instruction, even though it was very difficult and posed many problems for other students.
This resulted in many of these students switching to the Online Learning Academy, so they can continue learning from home even after in-person instruction resumes.
"I feel as though I am getting more work done at home. At school, we have limited time to do our work. For example, some projects we could only do in class we are now able to do at home during our own personal time," junior Joliene Thompson, an OLA student, said.
Some students did have better success excelling outside of the physical classroom; therefore, 31.4% of the students' said their grades improved during the NTI instruction time frame.
"I feel like I am able to finish my work faster, not having to wait until 3:30 to leave," said junior, Raleigh Parrett, an OLA student.
Having a more flexible class schedule helped many students get work done faster and more efficiently without having to wait on the teacher and other students.
Junior Madison Galland said, "I feel like when I'm at home it's a lot easier for me to do the work because I can do it on my terms, not having to wait for instructions, so I get it done faster."
When assignments are posted on Google Classroom for students to complete, they do not have to wait for the teacher to explain the assignment; they can just interpret the instructions on their own and complete the assignment solely.
"I feel like I am actually understanding and getting more work done when I am doing it virtually." said sophomore Diamond Tibby, an OLA student.
Though many other Central Hardin students disagreed, some did find the NTI experience to be more efficient and educational than the in-person classroom.
How to Succeed in an Online Classroom
NTI may be over for the time being but there is always the possibility that it will take over our school systems once again, for those that struggled with NTI there are tips and tricks to help you get through it in the future, that will also be helpful to those in the OLA.
Some students advised listening to music in between classes or when you have downtime, this will help to relieve stress and help you better concentrate for the rest of your school day.
Utilize all of your resources, use helpful websites to study and learn including Khan Academy, Kahoot, and several others, and many said that attending Google Meets is very beneficial and should be attended by all students.
"Having my friends on facetime to do it with me or knowing that I can get it done and move onto something more fun," said sophomore Reaghan Scarborough. "Don't stress out about your homework the minute you get it; this is a hard way of learning for us and you have time to get it done. Just don't stress about grades or you'll start to overthink it, and your mental health is so much more important. Also, Khan Academy videos are great resources."
When NTI was used in the past, several students said that schedules were hard to follow as well as getting out of bed. Some students have said that following a normal schedule is beneficial.
During NTI many had trouble waking up on time and actually getting out of bed. There are ways to make these issues easier for students to complete, such as setting alarms and making priority lists.
"Prioritize what needs to be done. In the beginning, when I was struggling a little, I learned to prioritize and make a list of what needed to be done, and surprisingly that made it easier," Tibby said.
Taking notes and being interactive with the classroom and instruction is very key to some students' success. Make yourself take your own notes. This will help you better understand the material you are studying.
"Try writing key points on post-it notes and sticking them on the wall above your desk. That's what really has helped me. Also, take notes!! Listen to some kind of motivational music (I use Mozart or Jazz). This is the only way I'm doing well," said Gray.
Stay positive and try to work with others who motivate you to complete tasks and help you to avoid procrastination, whether that may be virtually using Google Meet or Facetime or if the current situation allows you to work together in-person (such as a snow day, if that option is implemented in our district).
"I do recommend that they don't procrastinate. That got me in a lot of trouble last trimester and left me with a lot of work to do with just a little time to do it. and don't try staying up all night to finish it, you might get the work done, but you'll be too tired to focus on anything the next day," said freshman Chloe Frye.
Freshman Annalynn Hayes, an OLA student, said to make sure to put your mental health above all else. You can make mental health a priority by taking breaks, getting up and giving yourself some time to recharge, straightening your back, stretching, walking around, and having a small snack and/or drink.
"Don't slack off with getting your assignments done. This is literally one of the easiest ways you can learn and it only gets harder from here (college) so apply yourself now," said sophomore Grace Thompson
Success and overall good grades are a great motivator to keep students going when learning virtually. Students should put the effort in, keep your head, and set realistic goals to achieve greatness.
"At the end of the day, it comes down to your self-motivation. You ultimately make the decision to apply yourself and do what you are supposed to in order to be the best version of yourself," sophomore Molly Hobbs said. "Simply apply yourself and put your best effort."