Art isn't easy
Stephen Sondheim knew what he was talking about, man.
Hang on for a minute...we're trying to find some more stories you might like.
"Art isn't easy. Every word, every line, every glance, every movement; you improve and refine and refine each improvement." – Stephen Sondheim
This probably doesn't come as a surprise to many people, but theatre is kinda my passion. When I'm not in a musical, I'm listening to various musical cast albums, catching up on the latest Broadway news, or preparing for an upcoming audition. Luckily, I'm in the Hardin County School's Performing Arts Center's Pro-Am production of Mamma Mia!, which opened Sept. 13.
The PAC has been my home away from home for about seven years now. All of my best memories come from the experiences I've had performing, rehearsing, and seeing shows there. I met my best friends doing shows there. I cannot imagine my life without it.
My experiences can be compared to that of an athlete's. Take a football player, for example. Both a performer and football player train several hours a week in preparation for a big performance or game. There are both professional and amateur levels of each activity. Both are strenuous on the participant in many physical, mental, and emotional ways.
If all of this is true, why are the arts so underappreciated in society?
Shouldn't ALL student interests be celebrated and supported here at Central Hardin? I know that the cast of Mamma Mia! has rehearsed over 75 hours for the purpose of sharing a beautiful show with the community. The same hours are put into rehearsals for the Drama Club productions. It's discouraging to put in all of that work to get no recognition for it. Just ask principal Tim Isaacs, who is often involved in theatre himself.
I see myself as a performer for the rest of my life. My career choice shouldn't be seen any less than a professional athlete's. I put my heart and soul into something that I'm proud of; is it a crime to want to share that with the world? Most people assume that most musicals are cheesy (and that's most definitely true for some), but they are so much more than just spontaneous singing and dancing for no reason. They tell a story, spread a message. I am a vessel to portray that message.
Art fulfills people in such a unique way. I would be nothing without it. There are so many talented people in our school, in our town, and in our state. I encourage you to venture out and support your local artists. Sports bring communities of people together, but so does theatre.
If you're not busy sometime this weekend, you can watch biology teacher Jared Eaton, sophomore Ben Shockley, and myself sing the fun music of ABBA in eight performances of Mamma Mia! at the PAC. You can buy your tickets at www.thepac.net. Tickets are anywhere between $9-$29, but use the code PACProam5 for $5 any Level III tickets (you're welcome)! If you decide last minute that you want to come, there will be $5 rush tickets sold at the door 10 minutes before the start of the show. Come out and support your fellow Bruins!
About the Writer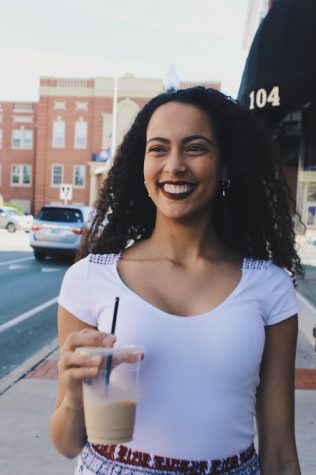 Alloria Frayser, Staff Member
Hi friends! I'm Alloria Frayser and I'm a senior here at CHHS. This is my first year with The Central Times, and I'm so excited to be a part of this wonderful...