Bruin Basketball, one of the most celebrated sports at Central Hardin, will be seeing huge changes for the 2023-24 season.
These changes include a completely new coaching staff for the boys and a rearranged coaching staff for the Lady Bruin basketball team. 
This year, Tavon Johnson has taken over the head coach position for the boys' basketball program, his assistant coach being Jordan Cooper. This pair has a long history together and may just be the dynamic duo this team needs.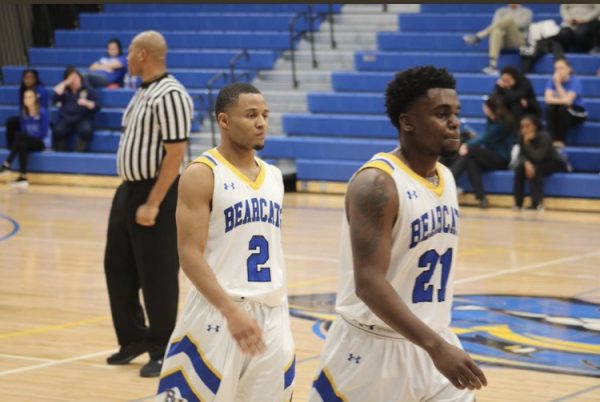 The pair originally played basketball together at Brescia University in Owensboro, and proceeded to coach together at Burns Middle School also in Owensboro. When Johnson was hired for the head coaching position at Central Hardin, it was a no-brainer for him to ask Cooper to join the program as an assistant coach.
"I came here when Johnson got the head coach position," Cooper explained. "We've worked together a lot coaching and playing, so I was excited." 
When Johnson moved here, he  brought along another asset: Donavon Stone. Stone is a senior and will be joining the basketball team this season. He has a strong affinity with Johnson, having moved here from Bardstown alongside Johnson. 
"I would say I'm close with Johnson, he was my coach at Bardstown," Stone said. "He's also my cousin." 
Johnson is a decorated player himself, having been a part of the Bardstown High School team that made it to the Elite 8 in the state championship. The same year, he was named all district and all region. In college he was a Brescia 1,000 point scorer, making him top 20 of all time at Brescia. He played a year of semi-pro in Louisville. He still plays the occasional pickup game, but he is focused on coaching now more than ever. 
"I am trying to give back to the game that gave me everything," Johnson said.  
Johnson hopes to give back to the game of basketball by training his athletes to not just show up on the court, but in their community and in their school. 
"Basketball isn't forever. I want my players to succeed outside of ball," Johnson said. "They should keep up their grades and their presence in their community. Basketball is an escape for a lot of players, so sometimes it's hard to focus on other things." 
Johnson and Cooper have big goals this season, and they hope to work together and with their players each and every day to achieve these milestones.
Coach Kristina Covington Jones, better known as "Cojo," left the Lady Bruin basketball team after last season, also resigning from her teaching position here at Central. Glenn Petersen has been close to Cojo for many years, dating all the way back to high school. He was her assistant coach, and has now taken over her role as head coach. 
"I honestly never thought about being the head coach here until Cojo said she was serious about leaving," Petersen said. "After every season Cojo would talk about how she was done and she was going to leave, then we would laugh. She wasn't joking this past year, and I realized I wanted to take over." 
Petersen has been coaching for 10 years, spending his first six with TK Stone's boys basketball team and the last four alongside Cojo. He fell in love with the sport of basketball at a young age, with his grandfather being his inspiration. Petersen still has a huge passion for the game, and wants to spark this passion in the youth. 
"There's just something about the sport that makes you feel young," Petersen explained, "at the end of the day it is a game." 
The assistant coaches for the girls team are Davis Pyles and Greg Johnson. Pyles is an Enhancement teacher at East Hardin, and Johnson is a part of the Exceptional Education staff at East Hardin. 
With the girls' team ending last season 11-14, Petersen is ready to turn around and come back stronger this coming season. 
"The goal is always winning district and doing well in region as well," Petersen said. "I just hope to work with my team every day to achieve these goals." 
The Lady Bruin basketball team has unmatched speed and athleticism, and Petersen is hoping to utilize those skills to reach their goals.
Keep your eyes, ears, and hearts open for our new coaches and impressive players. There is greatness yet to come.