New girls' soccer coach gives insight into upcoming season
Recent questions have risen since previous coach Chris Ernst stepped down from the girls' soccer coach position here at Central. Who will step up as the new head coach? What will this upcoming season look like for the Central girls' soccer team? We have been fortunate enough to find a new head coach, Chris Wilk, with a profusion of experience and productive goals already set for the team.
Wilk grew up here in Kentucky, where he attended John Hardin High School. From there he went on to St. Catharine College in Springfield, Kentucky. Although he decided to stick close to home for college, Wilk had bigger plans in mind after college. He grew up playing soccer, starting just as early as the age of four, and his desire to pursue the sport he loved took him all around the world. Wilk trained in Ireland for two weeks, then headed back to the states to play NPSL (National Premier Soccer League) in North Carolina for one season. Missing home, he came back to Kentucky to play USL 2 (United Soccer League) for a final season. Currently Wilk coaches for the Athletico Flames soccer club in Elizabethtown in the Spring, and is self employed.
Before receiving the opportunity to coach girls' soccer this year, Wilk worked as an assistant coach to the boys' soccer team at Central for one season. This background experience will aid tremendously in the upcoming season, but many have wondered if switching from boys to girls soccer will impact his style of coaching in any way. Wilk believes that coaching boys' and girls' soccer is the overall the same and does not intend on modifying any coaching tactics between the two.
Allowed the opportunity to step up as head coach, Wilk has big plans for the team next year that he hopes will take us all the way to state. Physically, the bar is set much higher this year, with more conditioning requirements and 10-day tryouts. However, Wilk is just as concerned with developing each player as a person as he is with conditioning and skills. Requirements have already been set regarding grades and character for returning players and anyone wanting to try out next season.
"We need to have a set of rules/goals to play by," Wilk said. "and discipline on and off the field."
Wilk has also spoken his mind on the idea of seniority having any effect on playing time, and his opinion is very clear. Seniority will not influence the overall starters on the team.
"Seniority can only take you so far," Chris said. "At the end of the day the best 11 need to be fielded."
The girls' soccer team lost 10 seniors last year, leaving almost a whole lineup to fill. According to Wilk, if some of the younger players are good enough, their likelihood of being pulled up increases with a coach who is looking to play the best players, regardless of age.
With Wilk already making changes to the girls' soccer team, we are sure to expect big things next season. Next year's team is fortunate to have gained an experienced, young coach who is already familiar with the territory having coached here for one year already.
"I love coaching almost as much as I do playing," Wilk said. "Being able to teach young adults and further their playing career is very satisfying."
About the Writer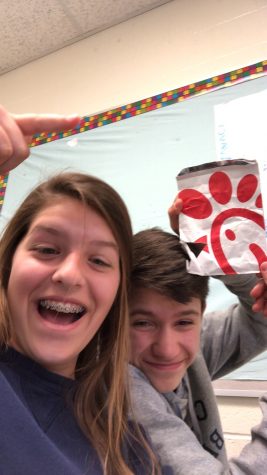 Peyton Rabb, Writer
Hi, I am a sophomore here at Central Hardin, and this is my second year on the newspaper staff. I play both soccer and lacrosse for Central and I am so...