Kayleigh Spratt: Changing the World With Art
An inside look at one of Central Hardin's incredibly talented artists.
Painting a guitar as a gift for her father in the seventh grade,  junior Kayleigh Spratt became  roped into the world of art. 
"It absolutely sucked," Spratt laughed about the painting. Regardless, she was hooked. 
She purchased a set of oil paints, and almost immediately found her passion in painting. Spratt was a natural and started off by painting a large and impressive picture of a lion.  This was auctioned off at a charity event for her cousins, Tenley and Adley Ward, who were suffering from a rare form of leukemia. The painting raised over $370.
Spratt has also been recognized for her talents as Artist of the Month at both Central Hardin High School and in LaRue County.  Spratt gave her first public speech about impacting the world with art in LaRue County. 
"It definitely was a really good experience. It allowed me to meet a lot of new people, and a lot of people know who I am now because of it," Spratt says. 
Kayleigh's speech at the LaRue County Public Library was actually her mother, Tiffany Spratt's', favorite memory of Kayleigh's art journey so far. 
"I knew that her art was far more than canvas, paint, and brushes. Art to Kayleigh was a way for her soul to speak when she was without the words to do so." her mother stated. 
Last month, Spratt was accepted into the highly competitive Governor's School For the Arts, which is a three-week program through the Kentucky Center for the Performing Arts, in which students are mentored by professional artists and educators, and are fully immersed in the arts to  grow their skills and create friendships within the community. 
Her art portfolio application required seven pieces, four being required and three being of her own choice. So she created seven different pieces, including a Van-Gogh style self portrait for which she had to look in a mirror the entire time she painted, and her current most known grayscale painting of her body, which she has entered in multiple art contests and won every one of them. It is currently in an art show at a Methodist Church in Elizabethtown.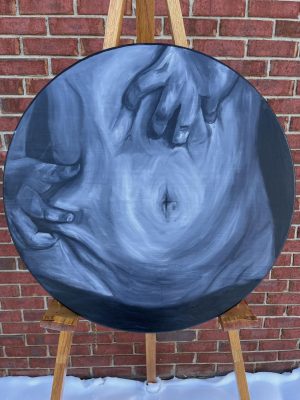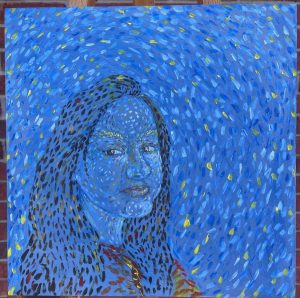 "That's my favorite one out of all of them. I don't think I will ever get rid of it." 
Spratt also teaches art classes at the Nolin River Art Studio in Glendale owned by her art teacher, Regina Williams, every day after school. 
Not only is Spratt talented in painting, she also is the owner of the jewelry business Kayleigh Creates Co. She makes custom necklaces, bracelets, earrings, and keychains. Every order she ships out also comes with two free stickers of her own design, allowing her to spread her art in even more ways. She has shipped orders all across the States from her Etsy shop. 
"I really love getting to create something that I get to see people wear every day. It brings me so much joy to see people wear and enjoy my art." 
After graduating next year, she plans to open her own art studio and teach all ages a variety of art classes, ranging from painting to pottery. 
"Art can change the world. Art therapy, it can open doors for people that they never knew they would be able to. I want to change the future for people like it changed for me because of Regina." 
You can find her on social media to order commissions for paintings through Instagram Direct Messages, and you can order from her jewelry business by searching KayleighCreatesCo on Etsy and through Instagram Direct Messages again. Spratt also does painting classes and parties and you can message her on Instagram to book them. You can also catch her this Saturday, May 21 at the Glendale Springfest across from Mountain Mikes to buy her jewelry! 
I have no doubt in my mind that Spratt will go on to continue to spread her art and love, and positively impact every life that she touches with it , as an incredible artist and person. Whether it be through her jewelry sales, paintings, or inspiring and teaching those around her with her art, and reminding them that:
"If people won't hear what you have to say, give them something to look at."