The Europe Trip of 2022 and the Upcoming Spain and France Trip of 2024
This past summer held some amazing opportunities for CHHS students, and the upcoming summers ahead will hold even more exciting opportunities for our student body.
English teacher Carissa Argueta took a trip to Ireland, England, Scotland, and Wales this past summer with a total of 21 people. The group left on June 11 and returned on June 23. 
Each person had to pay $4,200 to take part in the trip. Even though this seems like a lot of money, the sum covers all hotel expenses, plane tickets, and two meals a day. The only thing you are responsible for is lunch, tips, and souvenirs. 
The attending students were taken to see significant landmarks, starting with Ireland and ending in England.
In Ireland, they experienced village life in Dublin, visited the last port the Titanic anchored, the Titanic museum, St. Patrick's Cathedral, and the immigration museum. 
To get to Wales, the group took a ferry across the Irish Sea. 
In Wales, they visited the town with the longest name in the world, which is Llanfairpwllgwyngyllgogerychwyrndrobwllllantysiliogogogoch. Long name, right? 
In Scotland, the traveling group of students visited Edinburgh Castle.
To get from Scotland to England, Argueta said they took the train at King's Cross, a famous location Harry Potter fans would recognize. It is a train station that is the main hub for the UK's railways. 
Once they arrived in England, they visited multiple sights including York (a city in England), Stonehenge, the London Eye, Buckingham Palace, the British museum, and saw the play Wicked on Broadway. 
The Covid-19 Pandemic caused airports to be chaotic and stressful all across the globe. The side effects of the epidemic caused this trip to be a mess for the group when it came to getting where they needed to be, but they had fun regardless. 
Alex Argueta, son of Carissa Argueta, went on this trip and said that the travel experience was different than he expected.
"The flight was 11 hours long and the time change was pretty hard to get used to," Alex Argueta said. 
After asking Carissa Argueta about a significant experience that she appreciated most, her response was enlightening. 
She said that there were crowds of people surrounding the streets supporting and raising awareness for Ukraine during their times of struggle. Argueta said that it was at that moment that those students, some for the first time, saw peaceful and uplifting protesting for any cause.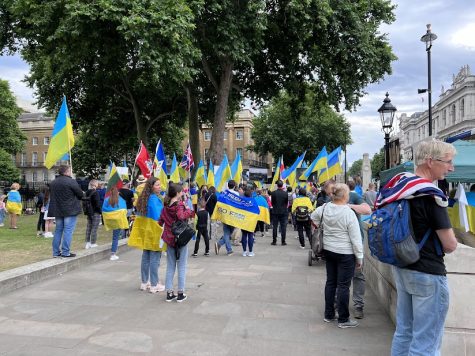 Argueta shared many fun stories about their experience in a foreign country. Her favorite, though, was by far the most bizarre. 
"I was downstairs doing my laundry when I heard music out of the blue," Argueta said. "It turns out that our group of students, along with people from France, Venezuela, Italy, Peru, Portugal, Spain, and maybe even more, were singing Bon Jovi. It was a really funny and cool experience."
Regan Raifsnider, a sophomore, said that her favorite part of the trip was exploring York with her friends. 
"My friends and I had lunch at a park near the York Minster," she said. "We walked the streets and saw many talented street performers. We also shopped at a lot of interestings stores such as vintage bookstores, a cat cafe, and consignment stores."
Alex Argueta said that he vividly remembers hearing the giant cannon shot off in Edinburgh Castle, which is fired at 1:00 pm every day except on Sundays. 
Both Raifsnider and Argueta agreed that being homesick wasn't something they thought about on the trip.
They said that they didn't get homesick because they were constantly moving from place to place, so reminiscing about their hometown didn't cross their minds at the time. 
Raifsnider said that she thinks that a trip like this is a once in a lifetime opportunity.
"This trip is important to be a part of so American students can build a more in depth understanding and empathy for the history of other nations," she said. 
Argueta agrees that this trip is important for people our age.
"Traveling shows different aspects of a culture we've never seen," he said.
Alex Argueta also made a significant point on how the appearance of different countries can broaden your understanding of the Earth's variety of geography.
He said that in these countries he saw more parks and countryside than you would normally see in Kentucky. Seeing this made him realize that the world is a lot more diverse than some people realize it is. 
While Argueta said that he would definitely go again, Raifsnider said that she would on different terms.
"I would go back to the countries as long as I didn't have to travel on a guide," she said. "I would rather experience the country on my own."
Carissa Argueta was inspired to take a trip to these countries and take students to give them the opportunity to "meet people, experience culture, be part of history, and have a good time at the same time."
During spring break of 2024, Spanish teacher Chelsea Lane, assistant principal Chastity Yates, and French teacher Christine Wilson are sponsoring a group of people to go to Spain and France.
There is no set date yet, specifically because the calendar for spring break has not been set for the year 2024. 
This trip is not school sponsored. Anyone and everyone is welcome to participate, including those who are out of district or homeschooled. You have to be five years old to go, but any age beyond that is also welcome to come. 
The cost of the trip is $3,736.
Every night there is a culturally relevant dinner that is served and you eat. This gives an enriching experience that gives you the opportunity to experience different cultures through food. Who doesn't like food??
The itinerary of the trip begins in France. Here, they go up the Eiffel Tower and take a walk around Paris. Then, they plan on going to the Louvre Museum and the Palace of Versailles. The France portion of the trip will be concluded with a cruise on the Seine River.
In Spain,Lane says they plan on taking a train to Barcelona and taking a walk there, as well as a bus tour. The main event will be visiting Las Sagrada Familia, an unfinished Roman Catholic church that's open to visitors. 
Lane and her fellow teachers chose these locations in particular because it was enjoyable in 2018 when they took students to visit these places, so they figured that we would love it too. 
Lane is already anticipating what the traveling process will be like in 2024. 
"It's going to be fast paced, jam packed, and a bunch of running from one place to another," she said. 
Lane, along with the other staff going on this trip, are lovers of languages and enjoy helping students get the opportunity to travel places they may not otherwise get to see. 
For both parents and students apprehensive about traveling overseas, Lane has some good advice.
 "The countries we are going to are super safe and like the US, there's always a chance of something happening, no matter where you are, " she said. "Bad things happen everywhere and we report on other countries' issues more than ours because we see it from a different gaze."
Despite the small worries that come along with taking a trip, it's a great chance to broaden your horizons and see things you would never see in the United States. 
Here is a link for more information about the upcoming Spain and France trip in 2024.
https://www.explorica.com/Lane-9551