CHHS Powder Puff 2023?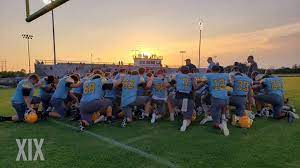 For those unfamiliar with the term "powder puff," it is essentially the American tradition of a flag football game where athletic roles are swapped. Cheerleaders assume the role of football positions, and football players perform on the sideline. However, it is not typically limited to only those athletes, and historically, has become a school-wide event. You may have seen our neighboring regions like LaRue County, Bethlehem, Elizabethtown, or even North Hardin partake in this event on social media.
Talk of why Central Hardin does not host this event isn't a new topic, but any efforts over the last few years to bring back powder puff were unsuccessful. 
"Somebody has to run it, you have to have somebody who's plugged in, who's willing to take the time [and] the effort. You have to have an adult to be responsible for it all," principal Tim Isaacs explained.
While currently there is no definitive plan or guarantee, numerous staff members have displayed intrigue and willingness to brainstorm the idea. One suggestion laid out on the table is that the powder puff game could be a PBIS award in correlation to the Spring pep rally. Students eligible to participate would be those in good standing with the school; referring to good grades, attendance, and behavior. Whoever follows these guidelines, but does not wish to participate on the field, is welcome to form student sections to support each grade level. The game is typically set up as juniors vs. seniors.
Out of 311 students and staff that were surveyed here at CHHS, over half said they would like to participate if this event were to be held. While some concerns were expressed, an overwhelming amount of support was shown throughout the student body and staff.
Junior Amya Rose exclaimed, "PLEASE BRING IT!"
Not only are students showing excitement, but staff members as well.
"My experiences in our powder puff football games are still some of my favorites," English teacher Angela Cannon recalled. "Both boys and girls gained respect for the opposite sex: the girls saw what was so appealing about football and the boys saw how it felt to be ogled on the sidelines in cheer uniforms."
With occasions like these, Central Hardin is persistent to make sure we check all of the boxes before rolling into action, one of them being appropriate culture. Some audiences may find powder puff events to be sexist, derogatory, offensive, or insulting. Isaacs addressed this concern.
"That's more of a question for you all [students] to answer among yourselves."
That's exactly what The Central Times staff did: asked you guys. 85% of those surveyed selected "no" when asked if they felt the "gender swap" that takes place is sexist, derogatory, etc; 11% answered "maybe/kinda" and only 4% submitted "yes." 
"The fact that only boys are usually allowed to play football is more sexist than anything that "powderpuff" football is involved in," sophomore Braxton Loeffler expressed. "Besides, a halftime show performed by the male gender is normal, and cheerleading does not always have to be pom-poms and miniskirts or whatever cheerleaders wear."
In contrast, science teacher Kimberly Gibson justifies the "maybe/kinda" demographic.
 "I think this could be a fun event! However, I think maybe the focus should be on switching athletic roles rather than gender. People who don't play football are playing and people who aren't cheerleaders are cheering. Less focus on their genders, so that it feels like a more inclusive event!"
Lastly, a student offers a perspective that could account for the "yes" demographic.
"This idea just gives every person who is mean-spirited a chance to make fun of this sport and the girls that are in it. They will be laughed at, made fun of, and compared heavily to the boys football team, especially since it isn't being played in the same way," sophomore Jadyn Wyatt said. "If we go about it right it could work. But if not, all I see are upset parents and girls, and a bunch of hurt feelings."
The purpose of this event would absolutely not be to mock or insult our peers. The intention is to boost school spirit and morale while having the friendly competition we all know and love. A multitude of responses expressed that it wasn't necessary to emphasize gender, and additionally, that sports are not gender-specific. It's important, not only in this instance, that we as human beings do not discriminate against our peers based on their identity.  
Contrary to the results about the culture of the game itself, about 30% of those surveyed thought the name of the game has a sexist connotation. The name "powder puff" originated in the early 1900s pertaining to makeup tools that women would use to powder their faces. The name in itself extends the stereotype that females are weak and/or fragile. Other titles offered up were "Bruin Battle," "Power Puff," "Fumble Rumble," and simply "Flag Football Fundraiser." 
Surprisingly, a great deal communicated that they felt as if this event was actually rather empowering to our youth and provided a sense of pride. 
"I believe that everyone should have the same chances. It'd be amazing to know that our school can comfortably switch the roles of sports and not have an issue with it," sophomore Lilian McGlone put into words.
"If girls want to play sports it's alright, and if a dude likes to cheerlead it's fine by me, but if you have a passion for ANYTHING you should pursue it no matter what," sophomore Guillermo Somarriba expressed. "Never let anyone tell you that you can't do ANYTHING because anything is possible if you put your mind to it."
Further concerns have leaned more toward the safety of the event. The rules would have to be followed and enforced strictly to ensure no injury to any parties involved. Those participating would need a parent sign-off and be willing to accept the consequences of any ill-willed actions. 
At the end of the day, if you did not want to participate in a powder puff event, you would not be forced to play. On the other hand, if you are someone interested in this potential event, be sure to keep your grades up and behave well to qualify for participation.
Leave any opinions, questions, or concerns not covered in the comments.