Gardner Leads State In Scoring
If you have attended any of the Central Hardin Football games this season, you have without a doubt heard "Touchdown Mason Gardner" over the loudspeaker. 
Junior running back Mason Gardner has been one of the stars of the Central Hardin football team this season. In the opening game of the playoffs against Apollo on November 4th, Gardner was a major contributor to the team's win. He had 236 yards and 4 touchdowns on 29 carries. 
On the other hand, Gardner owes his successful season to the coaching staff and his teammates.
"I wouldn't be able to score as much as I have without my linemen. All of them. I have to give them that recognition because there is no way I could be here without them." Gardner said. "And the coaches of course. We have a great coaching staff that has kept me in it and doing good on the field." 
Offensive tackle Andrew Hobbs appreciates Gardner's praise for his teammates. "Mason is a really good running back. The great thing about him is that he gives most of his credit to his linemen and that he always praises us for giving him holes to run through and always blocking well for him." 
Head coach Tim Mattingly spoke on how he sees Gardner's success. 
"He's worked extremely hard, and he's coachable. Mason is a tough young man. He missed a game due to illness and has played through some injuries. That's pretty remarkable."
Although Gardner is ranked number one in the state for scoring and 14th in rushing, he says he doesn't feel any different. 
"I really am no different from any other regular high school football player. I just go out there and play the game." Gardner said. "I have gotten lucky with opportunities that not everyone has, like my linemen." 
It's important to note that Gardner has had low moments in his football career, feeling a little burnt out at times. He spoke on how it's been up and down for him since about seventh grade. 
"I didn't want to play this year because I didn't play much last year. I was sitting a lot. The seniors from last year convinced me to play this season, and I guess you could say it paid off," Gardner shared. 
With Gardner having a total of 166 points this season out of 11 games played, he's leading in the state. In fact, he is 62 points ahead of the second in the state. 
"I'm pretty sure it's a school record," Mattingly emphasizes. "He's only a junior, so hopefully he comes back next year faster and stronger." 
With this said, Gardner has not let the success get to his head in any sense. 
"I'm just trying to go into every game with the mentality that I'm not better than anyone else. I don't believe I am the greatest football player out there. I think it's important for me to keep that mentality throughout the playoffs," Gardner explained.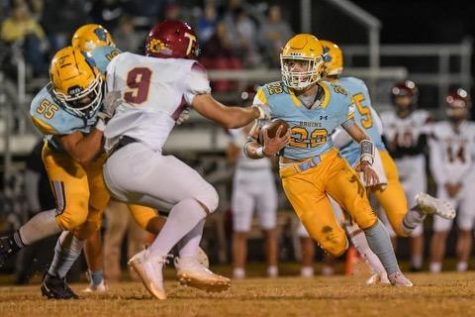 The football team is now two games into the state playoffs, with Gardner being essential to each win. First they defeated Apollo 33-6, and then Daviess county 17-3.
When talking about the playoffs and what's in store for the rest of the season, Gardner spoke on his end goal.
"I'd say that my biggest goal right now is winning the region. That's the end goal," Gardner said. 
Hobbs agreed that Gardners goals align with his own, but Mattingly is thinking bigger. 
"Our goal is to win the state championship," Mattingly said. "You can't win state without region so he's actually correct but the end goal is the final four of the state championship and ultimately the state title." 
Going through the playoffs there are a lot of eyes on the high school football star. Gardner has impressed us all this season, on the field but also with the mindset and determination that got him there.