Brett Decker: DI Basketball Commit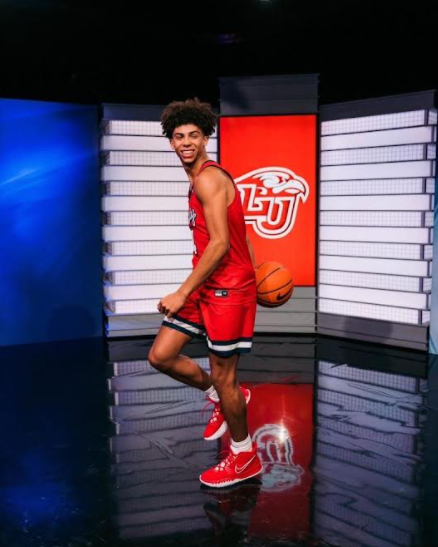 To use one word to describe him, Central Hardin boys' basketball coach Matt Nickell chose "dedicated."
In his sophomore season alone, now junior Brett Decker led the Central Hardin varsity basketball team in most points, most free-throws, and the most three-pointers scored, ultimately averaging 22.3 points a game.
Decker has played basketball since he was three years old. His years of experience have paid off as he has been offered athletic scholarships from Morehead State University, Tennessee Tech University, Northern Kentucky University, Austin Peay State University, and Eastern Kentucky University.
 However, Liberty Arena located in Lynchburg, Virginia is Decker's future home court. Decker committed to continuing his academic and athletic career with Liberty University on Oct. 22.
"What made me fall in love with the school was the coaches and that it's a Christian university," Decker said, "so not only do I get to get better at basketball, I can also grow my faith as a Christian."
While it is not completely uncommon to make a college commitment your junior year, many athletes weigh out their options until their senior season. However, Decker signed with Liberty prior to his junior basketball season.
"I committed early because It just felt right to me."
Decker goes on to say that he felt the recruitment process was faintly stressful.
"I had a lot of coaches calling and texting me every day, but I enjoyed it because that is what I wanted, to go D1." 
While his natural talent is hard to miss, a lot of hard work has gotten Decker where he is today. 
"I did a lot of training like lifting weights early in the morning before school. After school, I would go to my basketball trainer Jerry Turner, and then I would go shoot with my dad," Decker said.
Decker further credited his dad for motivating him, as well as supporting his successes. 
"I would say my dad really pushed me to get here because of all the things he has done to help me. Things like taking me to my trainer Jerry, rebounding for me, and lifting with me," Decker said.
His work has not gone unrecognized. Nickell commented on the development of Decker's great workout habits over the past two seasons.
"Brett has spent hours in the gym working on his craft. Brett shoots countless shots and it shows because he is always ready to make shots when he is called upon during our games," Nickell said.
Nickell continued with Decker's contributions to the team.
 "He is someone that the younger players look up to and he shows others what hard work can do for your game," Nickell shared.
Along with having a high scoring average, Decker broke the school record for points scored in one game. This title was previously held by Andre Miller, now more affectionately known as Coach Miller. Each of them broke the record while playing the same school: Green County.
"It was quite funny because when we lined up to shake hands after the game, Green County's coach shook my hand and said, 'I remember you doing this to us 15 years ago. It gave me nightmares," Miller shared.
Miller's initial reaction was excitement. 
"Records are made to be broken and I was extremely happy for him," Miller said. "The competitive side of me had to remind Brett that my coach did not allow me to play in the fourth quarter when I broke the record. I had to do it in three-quarters of play. We both just laughed." 
Decker, Nickell, and Miller alike hold high expectations for the upcoming season. While the end goal is always to make a strong push for the district and region championships, Decker also has personal motives in mind this year.
"[I want] to be 5th Region Player of The Year and the All-Area Player of The Year," Decker said.
Decker's positive attitude and high expectations bleed over into his goals for college.
"My goals for college are winning our conference and going to the NCAA Tournament every year I'm there," Decker said.
Nickell's explanation of a "good player," and Decker's presence, seemingly go hand in hand.
"I think a good player in any sport is someone that understands the importance of their role, they must love being a part of a team, and they must be competitive," Nickell said.
The first boys' basketball game of the season is Nov. 29. The Bruins will play an away game against North Oldham at 8:00 p.m.