Meet Logan Vessels, the Guy Who Got His Dream Job
Do you believe in luck? Well, most people can say that they don't, but for Logan Vessels, this isn't true.
Logan Vessels is a Central Hardin class of 2021 alumnus and got his dream job by luck. With having so much experience with engineering in the EC3 program, it provided a boost for his chances. He has had this dream of getting a job like this ever since he was seven years old.
Before he knew it, luck came into play when he was on a trip with his friend.
"My buddy came down to Florida and we just started looking at jobs," Vessels said. "They called me two hours later and we went across the state for the interview and started packing when we got back home." 
This job is Monster Jam. Monster Jam consists of unique trucks and drivers doing stunts, tricks, and intense competitions on live tours. The next live tour will be on Mar. 25-26 in Louisville, Kentucky at Freedom Hall. Click here for more information.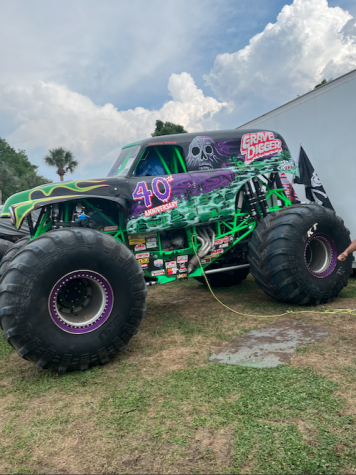 Vessels says with the help of ECTC, it has made a good impact on his resume which helped with getting the job. 
"I was fortunate enough to get all my ASEs (automotive service excellence). Also, I worked at multiple dealerships and I had multiple certifications with multiple dealerships, which helps because our trucks work with multiple different parts," Vessels said.
While working with the trucks, Vessels travels around the world for these shows. 
"We do shows in all 50 states of the USA, all 6 continents, and we do shows in 72 countries," Vessels said. Some of the places overseas that Vessels has traveled to are London, New Zealand, Puerto Rico, Australia, Finland, Poland, Germany, Canada and Mexico.
It's not easy to travel with all the parts of the monster trucks, so in order to do this, Monster Jam tends to permanently keep trucks in different parts of the world. Most of the time, when dealing with the trucks across the seas, they will take apart the tires of the trucks and put them together at the shows before it starts.
Because Vessels has had this dream job for a while, he has gotten to see how much this sport changes.
"It's not what I expected because when I was younger, the trucks didn't do what they do now. Also, we build our own parts for our trucks. Each part for our trucks cost about $4,000," Vessels said.
While this job is a lot of fun, Vessels does have recommendations for this job. 
"It depends on your lifestyle, it depends on what your goals are, if you are motivated to do something like this then yes consider it, but if you want to have kids or get married, then no," Vessels said. 
But that being said, the job itself will not ruin your chances of getting married or having kids, it's just a busy job in general.
The most important thing about this job is experience on trucks. 
"If we broke a truck in the middle of a show, we could get the engine changed in like 45 minutes," Vessels said. 
Therefore, to anyone that has an interest in getting a job at Monster Jam, he would like for you to contact him on Instagram (@Logan_Vessels).