My Take on the APES Seminar
On Nov. 29-30, the American Private Enterprise System (APES) annual seminar took place at the Hardin County Cooperative Extension Service. Junior students from Central Hardin, Elizabethtown, Fort Knox, John Hardin, and North Hardin were in attendance.
Central Hardin students Brennen Adams, Catherine Brown, Sydney Higdon, Meadow McGimsey, Skye Newsome, Kiris Ray, Sophia Stover, and I were selected through an application process to partake in the event. A big thank you to junior guidance counselor Whitney Carpenter for offering this opportunity at Central Hardin and spending the two days helping us grow as students, and people.
The purpose of the APES seminar is to teach the future business leaders of Hardin County what resources are available to them, how they can make an impact, and what steps to take now in order to be more successful later.
Going into this seminar, I was unsure what to expect. I ultimately wanted to undergo the experience of course, but adding it to my resume was a motivating bonus. Over the course of the two days, 11 leaders from around Hardin County each gave an hour-long session addressing different aspects of the business world, and each entailed more wisdom than I could have imagined.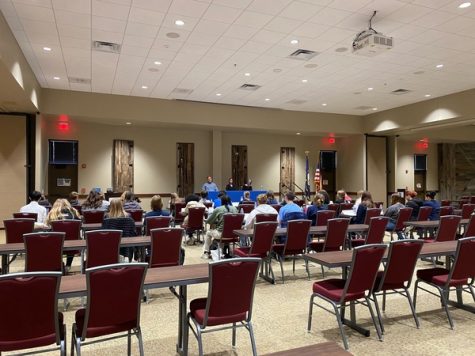 Listed Below are the 11 speakers in attendance:
Marnie Claggett: Claggett Photography founder
Todd Davis: Bluegrass Tank and Equipment owner; Bluegrass Sportsplex partner
Brent Ditto: Ditto Wealth Management founder
Sarah Fellows: Manager of Communications at Nolin RECC
Jeff Gregory: Mayor of Elizabethtown
Tim Goblirsch: Fort Knox JAG Administrative Law Division
Jerisia Lamons: Director of Cultural Diversity at Elizabethtown Community & Technical College
Kenny Rambo: Sr. VP at Heartland Communications Consultants Inc.
Deana Wheeler: Raiment + Boom founder, family-owned Dixie Lanes
Patsy Whitehead: The Hardin County APES Chairwoman
Deana Wheeler: Raiment + Boom founder; family-owned Dixie Lanes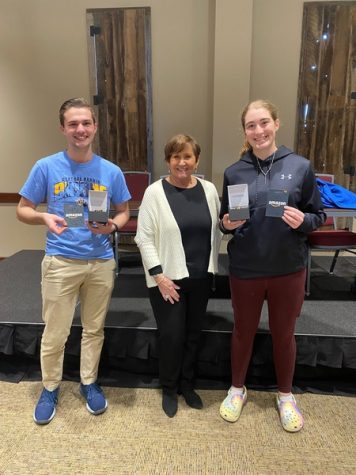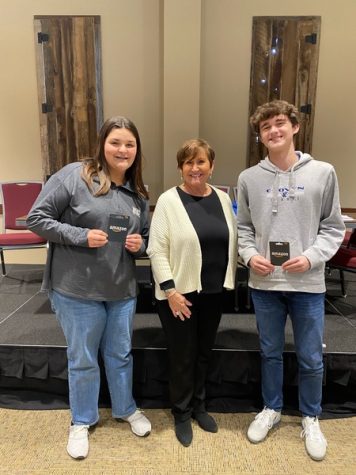 Upon arrival, all students invested $5 in hopes of a return through payday quizzes. A payday quiz tested listening skills and kept participants engaged with the speakers. Adams and Ray each took the title for the highest-scoring male and female student. Stover won the outstanding female "People's Choice Award." In addition, Central Hardin also won the team jackpot quiz taking home a $120 prize at the conclusion of the seminar.
My biggest takeaway, which couldn't be stressed enough by every speaker, is that Hardin County is full of opportunity. The Blue Oval battery plant being built in Glendale has a multiplier upwards of 20,000 to 30,000 new jobs needed to support this area.
A majority of high school students wish to get as far away from their hometown as possible after graduation. Many of these business leaders felt the same, traveling to Los Angeles, Atlanta, and New York to pursue their careers. Each of them ended up being most successful back here in the heart of Hardin County. According to many of the speakers, as much as you want to leave Elizabethtown's city limits, any job you aspire to pursue will be needed vastly here.
Furthermore, the importance of investing was stressed tremendously. In our generation, pensions will no longer be offered. While to most this is considered a disadvantage, the upside is that you do not have to stay with a company for 30 years in order to have a retirement. The kids of today now must prepare their own retirements but have the financial freedom to test-run multiple careers. As Ditto advised, start investing in your future now; money will not make you happy, however, it will prevent you from being miserable.
Last, but certainly not least, we need to be aware of the importance of diversity in not only the workplace, but our personal lives as well. Diversity does not just mean different skin colors or ethnicity, but rather different backgrounds, job experiences, ages, genders, and social classes. The more diverse thinking in your environment, the more audiences you can target in the business world, but the more empathic you can be in your personal life.
Regardless of the career  you may have your heart set on, I strongly recommend to the rising juniors to apply for this opportunity next year. I learned about topics that prepared me for my future more than any googling ever could. There is way more to learn in business classes than economy patterns or money management, I promise. This is a favorable occasion to ask those tough questions about the future and recieve real, in-depth, professional answers.