Family and Football for the Win
"I feel like we all have each other's backs, we would do anything for each other." 
Junior Mckay Payton and the entire Central Hardin football team can agree that it's more than a group of athletes and coaches, the football program is a family. This family truly came together in the fall 2022 season. 
The team just ended a very successful season on November 18, finishing 11-2 in the overall season and being ranked #1 in the district with a district record of 3-0. 
Michelle Bryant works at the front desk in the main office at Central Hardin, and she has 2 sons that are a part of the football program.
"Proud is an understatement of how I'd describe watching my boys give their all to a program that teaches them more than just the sport of football," Bryant said. "Bruin family runs deep, and I'm thankful for this 'band of brothers'." 
Senior twins Gage and Gavin Bryant without a doubt contributed to the outstanding season. Gage is a middle linebacker and long snapper, while Gavin has joined the program this season as the general manager. 
"We knew how to work well together as a team, and as a family," Gage Bryant said.
The Bryant twins aren't the only twins that contributed to the success of the Bruins this season. Senior twins Andrew and Adam Hobbs have played football for Central all four years of their high school career, and shined bright this season. 
"The only feeling that really comes to mind is joy," Andrew expressed. "This football team and the program have been my life for the past four years and to see how far we have come in those four years is nothing short of amazing." 
In 2020 the football team only won a single game, so this season was a big turnaround for the program. Betsy Hobbs has seen the growth in not only her own sons, but in how the whole team came together this season to make it so enjoyable and successful. 
"For Adam and Andrew having rough seasons here at Central, this one was impressive to watch," Betsy said. "I am so proud of them and although it is bittersweet to see the end, I couldn't be more excited to see what's next for them."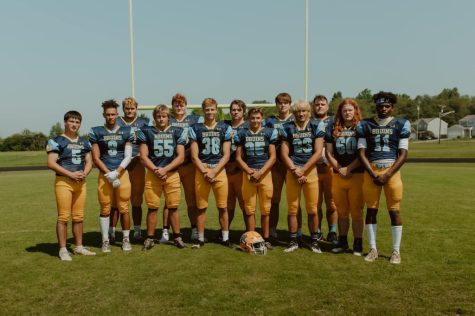 Katy Gardner works in the counselor's office at Central Hardin, and her son Mason Gardner is a running back on Central's football team. 
"He's a kid that wants the ball," Gardner said. "Mason isn't afraid of a challenge." 
Mason has been a competitor for as long as he and his mom can remember, but he really shined on the football field this season. Mason led the entire state of Kentucky in scoring for the majority of the season, even when missing a couple games. 
Mason spoke on how he stays motivated throughout the season. 
"Coach Mattingly," Mason stated. "Coach Mattingly motivates me and also me wanting to get better. That's what motivates me." 
Head Coach Tim Mattingly has been with the football program at Central Hardin going on nine years, and was named District 2 Coach of the Year for the second year in a row this season. 
"My winning this award is a product of having great players, coaches and administrative support!" Mattingly said, "I am honored."
Junior quarterback Zak Spurrier was awarded District 2 player of the year. 
"Of course I am honored, it was a great season," Spurrier said. "I couldn't do it without the rest of the team, so I truly thank them. And the coaching staff as well." 
Senior Terry Brooks has been a key player for the Bruins, but unfortunately he was injured for majority of this season, cutting his time on the team short. 
"We had a good season," Brooks said. "Although I didn't really get to do much, I think I played like 2 or 3 games, I enjoyed it." 
There is nothing quite like the family at Central Hardin, especially for the Bruins football program. The football team played an outstanding season and came together like never before. Wishing good luck to the team next season, and to the seniors who are moving on to bigger things. Go Bruins!