Arts for All Helps Students Make Their Mark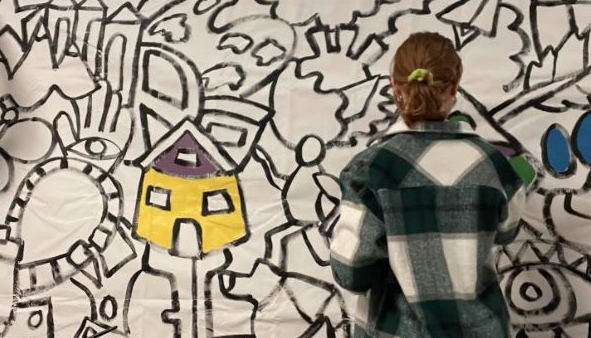 Art is the expression of human thoughts and emotions, and nothing exemplifies this notion more than the mural that can be found in the Arts and Humanities hallway at Central Hardin High School, provided for by an Arts for All Kentucky Inclusion grant.  
Arts for All Kentucky is an organization that provides art education and inclusion programs for children with disabilities, and they have partnered with Megan Meredith, the new Visual Arts teacher, to create a school-inclusive mural that students from around the school can help create.  Meredith has worked with Arts for All before helping to promote the organization and educate students and people in the community about the grants that they provide.
Meredith and her students have not been alone in their effort, however, as they have also had help from Andee Rudloff, a friend of Meredith's and former Education Director at the Southern Kentucky Performing Arts Center.  Rudloff is a professional visual artist, administrator and curator.  She has 20 years of experience including numerous pieces in Bowling Green, New York City and even Taipei, Taiwan.  
"I feel that we are creating a legacy piece that will be seen for years to come," Rudloff said.  "My hope is that when people who participated on this look back at it they feel they made an impact."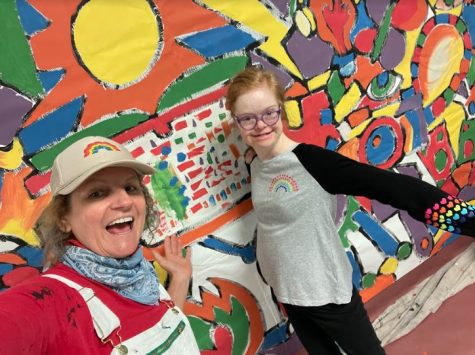 The mural began as a simple question for students.
 What does creativity mean to you? 
Students were able to answer this question by drawing symbols and patterns, which was then placed onto a canvas by students within the art club. 
"It's an expression of diversity and creativity among students," senior Arianna Taylor-Wright, the art club president, said.
The mural has even created positive experiences for students just walking past it in the hallway.
"I think it's really nice that everyone appreciates the mural," freshman Sydney Rowser, a Visual Arts student, said.  "A lot of people have just come to really love the mural."
Needless to say, the mural has already left a positive impact on the school community and Meredith and Rudloff plan for it to remain leaving an everlasting impression. 
"It's going to be in the school for years to come," Meredith explained.  "And so having that mark that they left on the school, that they hopefully stay at and graduate from, and saying that's my drawing and that's what I did."
The mural is a magnificent work of art that thoroughly represents the school body.  The mural will continue to hang in the Arts and Humanities hallway until the new addition to Central Hardin is finished with construction, where it will then hang in the brand new halls encased in plexiglass.  Meredith is prospective that students will appreciate and take care of the mural until it has found its final resting place in the halls of Central.