French Classes Participate in Manie Musicale 2023
For the past three years, foreign language teacher Christine Wilson has had her French classes participate in the international music competition "Manie Musicale."
"It's based on the March Madness bracket. So instead of having 16 basketball teams, we have 16 songs that come from French speaking countries," Wilson said. "The students fill out their brackets and try to predict which song will be the winner and then we start voting."
The 16 songs are randomly matched up into 8 pairs for the first round. The winners move onto the second round to be matched up again et cetera. Each vote takes place over an anxiety filled two days followed by a reveal video to be presented to classes on the third day.
In Wilson's classroom, students get one point for correct first round predictions, three points for correct second round predictions, and five points for correct third round predictions.
"At the end we'll tally them up for the most amount of points and give out some prizes. I might even award the worst bracket; I don't think anybody has got all of them wrong but some of them are pretty low," Wilson joked.
The census seems to be that most of the match ups so far have ended up super close to a 50/50 vote, ultimately leading to a lot of upset on reveal days in the classroom. Two songs, "Case Départ" by Missy D and "Plus Fort" by Julien Granel, had risen to be class favorites, but unfortunately have both already been eliminated.
"Most of the class was super upset because we all wanted her [Missy D] to win and all loved her very much, so that was very sad," freshman Adilyn Murray said.
Murray is now rooting for the song "Danser Avec Toi" by LeFlofranco to bring it home and she is sought out to have one of the best brackets in the class this year.
The Manie Musicale organization originated in Maine in 2017. Wilson found out about Manie Musicale through another mutual French teacher and now over 4,000 schools are involved.
"I joined the Facebook group that they have. All the teachers that are in the 4,000 schools participating are in this Facebook group together and constantly sharing ideas, lessons, and activities to do," Wilson said. "It's probably been one of the best professional learning communities that I've been a part of because there's a lot of collaboration going on."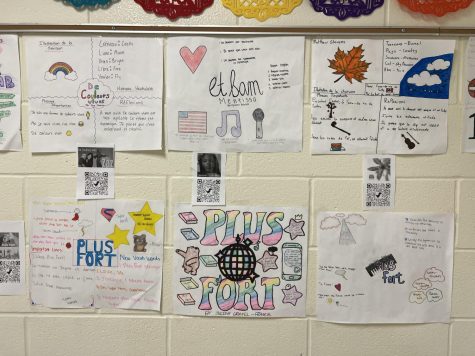 Wilson has her students complete a choice board of Manie Musicale activities adapted from said Facebook group to more thoroughly learn the songs and interact with artists.
"It's been fun though because some of the artists will take time to respond to students," Wilson commented. "I did get a response from one of the artists when I left a message on her Instagram and she replied saying thank you for your votes; I was so excited that she took the time to respond."
The Manie Musicale Spotify playlist has been linked below for anyone wanting to listen along. Voting ends next week and this year's winner is soon to be announced.
Click HERE to listen.