Singer/songwriter Jimmy Buffett (1946-2023) transpired music so eminently that he practically created his own genre. For over five decades, his career and tunes told tales of the places and faces he'd seen throughout his life. His taste was humorous and catchy, relaxing and fantastical, and created a method of storytelling all his own.
Born on Christmas day, 1946 in Pascagoula, Mississippi, and raised in the port town of Mobile, Alabama, Buffet quickly gained an outlet through his father, a traveling steamboat captain, to the world of travel and coastal mystery. Buffett's official info-site explains that "the Gulf of Mexico [where his father sailed] was the doorway to a world of adventure…the siren call of exotic ports was in contrast to his days as a parochial school student and an altar boy, and it only took a guitar to take him off course from the life his parents had imagined for him."
You read that right, music had not always been in the cards for Buffett. In fact, he had been encouraged to keep his head in the books rather than hunched over the strings of an instrument. It wasn't until college that he "saw how a fraternity brother in college with a guitar garnered the attention of the girls," that he quickly learned a few basic chords and started playing himself.
What began as busking the streets of New Orleans quickly became playing at Bourbon Street clubs and releasing his first record, "Down to Earth" with Billboard magazine in 1970. Buffett had realized that music was his calling, and after vacationing to Key West, Florida, with folk singer/songwriter Jerry Jeff Walker, he began incorporating his own touch of tasteful "wanderlust and storytelling" into new tracks and sets. This creative adaptation is what would take him to the next level.
For context, Key West in the 1970s was an environment ridden with smugglers, con-artists, and free-spirited hippies who sought out eclectic adventures and wondrous highs. Visiting such an area and walking side-by-side with these forlorn individuals so vastly different from those he grew up with brought him new inspiration.
Buffett took this new-found knowledge and perspective, combined it with his musical abilities, and dropped "Margaritaville" in 1977. "A laid-back anthem about escapism and life in the tropics," the song spent 22 weeks on the Billboard chart and ultimately propelled him to national fame.
He would take off touring across the country, and ultimately, across the globe. Having played nearly 2,000 concerts in his lifetime, fans of various ages, races, cultures, or locations were able to experience the world of Jimmy Buffett.
One of our very own Bruins, family and consumer sciences teacher Jo Million had the privilege to witness Buffett perform too many times to keep track. She estimated attending around 25 live performances of his, traveling across diverse terrains with her husband, friends, and fellow Parrotheads (Buffett fans).
"We [she and her husband] have been to concerts mainly at Riverbend [in Cincinnati, OH], but also traveled to Vegas…Orange Beach, Alabama… and Nashville with friends. We also have stayed at the Margaritaville Resorts in Florida and one time in St. Thomas Virgin Islands," Million recounted. "My husband reminded me that we also took a houseboat trip up the Ohio River and planned on listening to the Jimmy Buffett concert on the river at Riverbend. We never made it. The houseboat overheated and we were forced to turn it around to head back to Louisville. We just ended up playing his live concert on the Margaritaville Channel and made the best of it."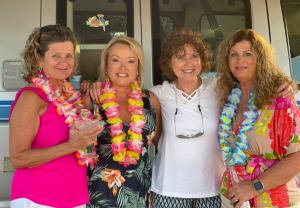 Buffett became part of Million's yearly tradition and something she planned ahead of time, looking forward to the "laid-back" feel of his music and beachy environment his shows offered. No matter the weather, nor distance needed to travel, singing along to her favorite Buffett ballads like "A Pirate Looks at Forty" or "Son Of A Son Of A Sailor" was vital to a successful vacation.
"Sometimes he did like two (concerts) in a week and we would just make a whole week of it," Million said.
One of her favorite memories was traveling to the Gulf of Mexico with three other couples, spending the day hanging out at the beautiful beaches and the nights hearing Buffett sing like a songbird about sea captains, sunshine, and salty air.
"On another one, there were about 36 of us that went and we all stayed at the same hotel, just hung out by the pool all day, and we had a driver pick us up in a bus to go over to the concert and take us home afterwards," Million shared. "That was kinda cool 'cause it was a big group of people."
Loving Jimmy Buffett's music was easy, but it felt especially natural when with other people. Million explained how even when attending concerts in fourth row seats or a "pit-like" environment, the fans have always been kind. If they bump into you, they apologize, unlike so many fans at large venues who tend to become aggressive in crowds. This positive behavior is reflective of Buffett's nature himself and the fandom he created. Parrotheads sought out a feeling of relaxation in paradise when listening to his work. His songs told stories of a coastal utopia with the swaying rhythm and catchy melody so many know him by.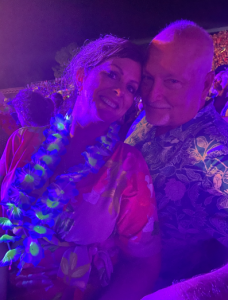 "We gotta have a gathering to celebrate his life," Million explained with a smile.
"I had just mentioned to my husband this summer that we hadn't yet gotten tickets to go to Buffett," she remembered. "He said he had looked but that there weren't any, and that's when we kinda realized he probably was sick and something was going on."
Million and her husband's hunch about Buffett's health was unfortunately right, and when the news broke that he passed on Sept. 1 at age 76, fans were devastated. The escape from reality he provided through his music may still live on in our eardrums, but his smile, laugh, and signature sway as he strummed his guitar are in the past.
Yet, it is important to realize that death is an inevitable embrace of life that even the best of us must fall into. To all those still carrying on in a world without Buffett, do not let this legend be forgotten. He left a legacy, and as we grieve his loss, remember the optimistic lyrics of the idol himself:
"Bubbles up
They will point you towards home
No matter how deep or how far you roam
They will show you the surface, the plot and the purpose
So, when the journey gets long
Just know that you are loved
There is light up above
And the joy is always enough
Bubbles up."