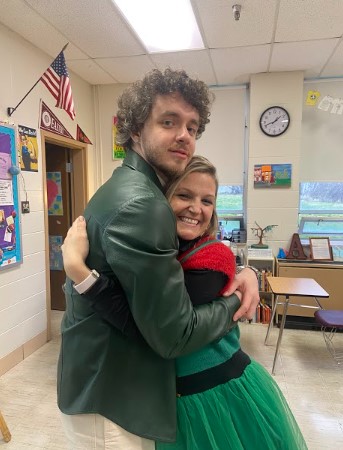 Some Central Hardin students may have more in common with six-time Grammy nominee Jack Harlow than they may realize. If you've ever had history teacher Julie Anderson, you and Harlow have shared a teacher.
In Harlow's freshman year at Atherton High School in Louisville, Kentucky, where he grew up, he met Anderson when she was his AP Human Geography teacher. Anderson thinks back fondly on her time with Harlow.
"He was very energetic. He was very social. He worked hard but he had to work extra hard to be organized," Anderson said. " I remember one time I stayed back with him to get his materials together."
His bigger-than-life personality makes it hard for Anderson to wrap everything into one sentence. Still, she takes her time to think of a quick way to describe young Harlow.
"He was kind of an entertainer in the classroom," she said.
When we think of Jack Harlow, we think of the heartthrob, pop star, singer/songwriter with hits such as "Dua Lipa" and "First Class." Avid fans know how much he has given back to the Louisville community that raised him, but was he always this way or is this a scheme to boost his personality?
"At least in my experience with him, he was always very kind and sweet. I never had a negative encounter with him at all as a student." Anderson said.
Anderson goes on to talk about how school helped Harlow flourish in his new career. She tells of a few skills that school helped him pick up. These helped boost his popularity.
"I think it showed him that with confidence, that other people will be attracted to that and kind of look at you," Anderson said.
Anderson also revealed a little piece of Harlow that may not be common knowledge. Despite his fame now, Harlow started as a freshman who never would have imagined his life being this big.
"I recall that he put out a bunch of YouTube videos of him rapping when he was in eighth grade and stuff. Even though some students might be embarrassed to share that, he was so proud of everything he did," Anderson said. "He looked at school like we were his audience because he was constantly telling people to look this up, listen to this, look at what I did. Networking would be the way I think he used school, at least in my class."
Jack Harlow is one of the most streamed artists of our age, but before that, he was also a good student. Harlow was kind and used all the resources around him. He allowed his personality to shine. He currently has three studio albums, and so much more. But it came from hard work and using the resources the school provided.
"It makes me smile every time I see him in the media," Anderson explained. "He is so humble it touches my heart because I always like to think he is talking about me."
Jack Harlow has become a huge name and it's nice to know that he still values those who helped bring him up. When stepping back, you can see how his school and teachers affected his career. In case you were wondering, yes, Anderson does admit to listening to his music.