As you navigate the horror-filled walls of high school, you may try to find a safe space. But as you enter what should be a safe place, somewhere to have a moment of clarity from the chaos of the halls, you may witness the biggest scare of all. Someone trashed the bathroom….again.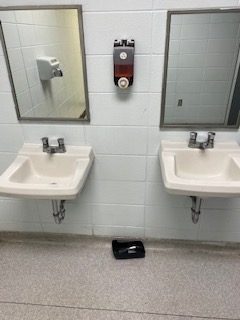 "We have had new issues with vandalism, especially with paraphernalia being flushed down toilets," math teacher April York said. "We as a community own the school why would we not take good care of that?"
Finding the bathrooms of Central Hardin in a state of anarchy is a common experience among the student body. We often see soap dispensers ripped off walls, sinks broken, toilets overfilled with random objects, sanitary products on the ground and walls, and much more gross things. We all hate it. Students complain about the state of our bathrooms but never want to point out the problem. It's us, the students are making our bathrooms a mess. 
"People don't have any respect for anyone else," senior Xavia Conkwright said.
So why are we breaking the bathrooms? Why is it funny or cool? There's no clear answer because sometimes people just break stuff to break it, sometimes they think it makes them cool, or in recent years it's become a social media trend to vandalize school bathrooms.
"I would like to think that we would all be able to go to the bathrooms in a facility that is clean and we are not bothered to use because some people didn't take care of it," assistant principal Matt Bacuum said.
Now, if you've ever been a victim of having to go to a bathroom located farther away because the one near you is closed down, please raise your hand.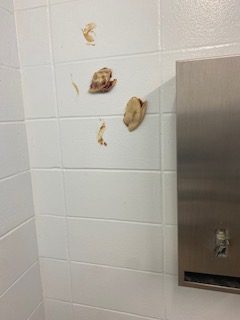 The reason behind this: the mutilation of our plumbing. 
"There are instances where our plumbers, the ones who work for Hardin County Schools, the only way they can free up the toilet is to bust it up," Bacuum said, "to literally break the toilet, and there will be three or four vapes stuck in the piping of the toilet."
Not only are the people responsible for this breaking the plumbing but also school rules. It's not cool. So, let's all be a little more mindful when it comes to the bathrooms and just respect the space we all share.