April York's Coming Home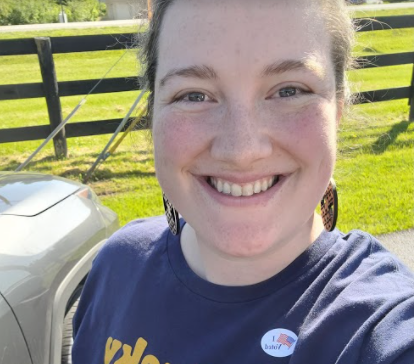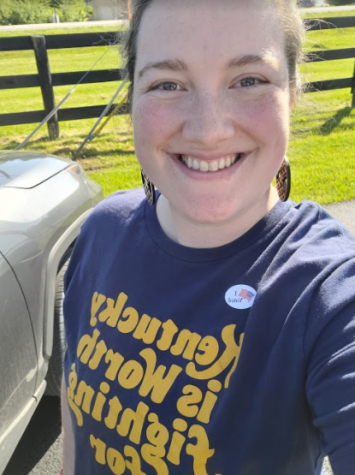 Community is defined as a feeling of fellowship with others, as a result of sharing common attitudes, interests, and goals. The Central Hardin community, particularly southern Hardin County, has been crucial to the life of math teacher April York. 
York, who calls herself a "good old Glendale girl," graduated from Central Hardin in 2008. She attended elementary school at what was then Sonora Elementary, growing up in a tight-knit group composed of people from Glendale, Sonora, and Upton. Her early years there formed her views on the importance of community. 
At the time, students at Sonora Elementary were active participants in the small town where they went to school. York remembers walking to the local grocery store during the school day, for example. "The town was a part of what we learned," she noted. 
Additionally, York feels that the acceptance she knew at Sonora Elementary was important in shaping her view of this community. "I was a quirky little kid," York explained, "but everybody loved me."
It may be a surprise then to find that after York graduated from Transylvania University in 2012, she did not return to Glendale. Instead, she took a position at Woodford County High School. For the next eleven years, she lived in Woodford County and nearby Lexington. York explained that she wanted to prove to herself that she was a good teacher rather than rely on her prior connections in Hardin County.
"I wanted to make sure…that I had done it on my own," she said.
It's clear she did. York left Woodford County as a leader of that school and nearly instantly became universally respected as a leader at Central Hardin. Her years at Woodford County were important in her journey of discovering and establishing herself. 
Additionally, York's years away from home added to her appreciation for her community. York noted that in contrast to Woodford County, the Central Hardin community has a "sense that we're going to take care of each other."
She explained that students at Central Hardin are more open to interacting with others outside of their social circles. 
"I don't know if somebody who hadn't been away would necessarily say that," she added. 
This makes sense to York. She said that her values came from her local upbringing, arguing that in this community, "you take care of other people, you see the good in other human beings."
This appreciation and love for her home motivated York to return to Glendale in 2019. She replaced a retiring teacher in the math department. York attributes her success largely to teachers she had at Central Hardin. Thus, she felt she had a duty to emulate those teachers by aiding the success of other Bruins. 
"This community did a lot to raise me, and I have an obligation to pass that forward," she said.
York has worked to pass forward her success during her three years serving as an educator at Central Hardin. In addition to teaching a variety of math classes, she has taken on the role of Academic Team Coach, Young Democrats Sponsor, and Senior Sponsor. 
York believes that in these roles, she has a responsibility to build the identity of the community she serves. This is due to public schools being, in her opinion, one of the only institutions left where the entire community interacts. 
She also noted that in addition to building their communities, educators should have a deep  understanding of their communities. 
"If you aren't thinking about who your students are as people, then you're not really teaching your students," she argued, reflecting her belief that education is "all a human enterprise." 
Seeing her students as humans has led York to profess that she believes in the future of the Central Hardin community. That future may look drastically different than the environment York grew up in. The placement of the Ford plant at the industrial site in Glendale, created when York was in middle school, will likely change the fabric of the local community.
Change is inevitable, York pointed out. She is focused on how her community responds to the change. 
"Some of that change may be good, but we don´t want to lose the good that is already there," York said.
In York's opinion, her community must focus on creating and maintaining communal spaces. Traditions should be continued, but newcomers should be invited to take part. 
Most of all, York feels that the values taught to her by her community should not change even as its size and nature evolves. 
"We believe, in rural Hardin County, in taking care of other people, in loving other people, and respecting other people," she said.  "That is the future of the world."