Not-So-Sexy-Serial
Stop Sexualizing Serial Killers in the Media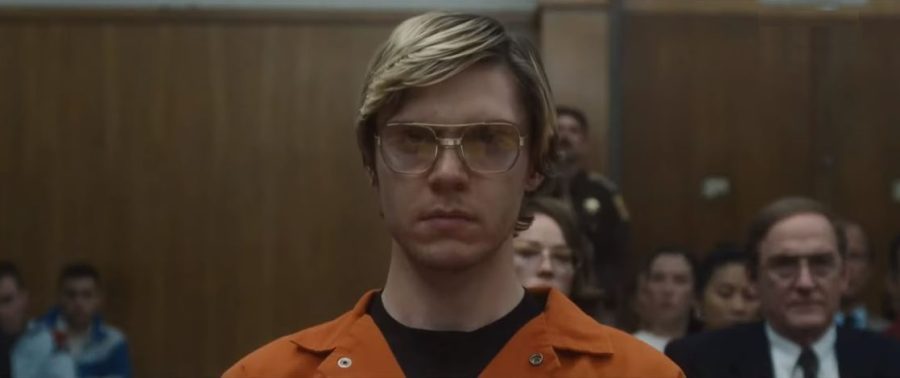 Over the past decade, true crime has become one of the most popular genres of content within the media. Expanding out from just the classic horror movie trope, topics of true crime have shown great success through documentaries, television series, podcasts, books, online articles, videos, and forums.
According to Inside Radio, a 2022 YouGov survey found that nearly half of Americans enjoy true crime content and a third consume it at least once a week. Approximately 52% of these fans access true crime through television series or shows, with documentaries and movies coming in second at 39%. This comes as no surprise with the large number of newly released crime-based series released on popular streaming apps like Netflix, Hulu, and HBO Max. That being said, it was also determined that women (58%) are more likely than men (42%) to say they enjoy true crime, and furthermore, twice as likely to say it is their favorite genre. So what are the factors contributing to this gender stagger in watchers?
Let's take a look at what the genre of true crime entails. YouGov says murder (52%), serial-killing (45%), kidnapping (37%), and organized crime (35%) are the most popular types of true crime content in the media today. Moreover, it was determined that women are more likely to consume content that deals with murder, kidnapping, domestic abuse, and sexual assault while men are more interested in non-violent crimes such as corruption, fraud, drug trafficking, and hacking. With the true crime genre focusing on topics that automatically target the female audience, it is logically sound that women are becoming obsessed and more involved with its community.
In a more recent sense, certain trends on social media platforms such as Tiktok, Twitter, Reddit, and YouTube have encouraged users to share their thoughts and opinions on their most recent true crime consumption. Oftentimes, this involves a discussion surrounding the characters and their actions within the show, but also their feelings towards the actors who portray them.
Now remember, women make up the majority of true crime fans, and it is commonly known that those active on social media are primarily younger generations. So who are the ones reviewing, rating, and gossiping about the serial killers on the big screen? Yes, that's right: teenage girls.
"Fangirling" over actors has been around since films were first readily available. But in this case, the hunk that has a grip on their hormones isn't just some surfer, rocker, or boy-band member, he's a killer.
In 2017, My Friend Dahmer, a movie capturing the true story of young Jeffrey Dahmer, the shy adolescent in high school who becomes a notorious serial killer years later, was released. Teenage heartthrob Ross Lynch was cast as Dahmer, setting the stage for a new phase of oversexualizing killers. Then, in 2019, Extremely Wicked; Shockingly Vile and Evil, a Netflix biographical crime drama about the life of serial killer Ted Bundy, came out. With Zac Efron, named Sexiest Man Alive in 2017, cast as Bundy, watchers couldn't help but feel drawn towards the young, attractive serial killer they saw on screen. In fact, even before the movie was in theaters, people were anticipating how Efron would take this "bad-boy" role to the next level.
The two-minute trailer begins with a passionate montage of Bundy and his girlfriend, Liz Kendall (Lily Collins), dancing, kissing and stripping down to their undergarments. Later, Bundy grins and winks at the camera in court. With a teaser like that, you can't blame the audience for viewing Bundy as more Casanova than cold-blooded killer. Rather than enlightening the true crime audience on the inside life of one of the most famous and gruesome killers, Netflix portrayed the 1970s murderer as a smoking hot sex symbol. Yikes.
To make things worse, Netflix released Conversations with a Killer: The Ted Bundy Tapes only months later, causing an uproar of thirst for Bundy, especially on Twitter. Tweets such as, "Ted Bundy is hot, don't @ me though" or, "I'd be his victim any day" were circulating all over the Internet, and little was being said to contradict them. Ted Bundy was a man who utilized his stereotypical good looks and charm to lure women in, before raping and decapitating them. However, this horrifying fact seemed unimportant and was ultimately ignored by the watchers of the docu-series. They refused to realize that the handsome face they were so enraptured by was the same sharp jaw and fierce smolder that brought over 25 women to their death.
For many watchers and critics, there was hope that the media and Netflix would learn from the reactions to the series; lust can make individuals blind to the truth, especially when the individuals are impressionable teenage girls. However, here we are once again. Only three years have passed and the sexy-serial killer thread is already back and roaring through the media.
On Sept. 21, Netflix released Monster: The Jeffrey Dahmer Story; ranking No. 1 on the streamer's most-watched list in countries around the world within just a few days. The 10-episode limited series is meant to engage true-crime fans while also educating viewers on the real story of the serial killer, Jeffrey Dahmer. Dahmer, played by Evan Peters, was convicted of killing over 17 men and boys in 1992. Although the reactions to this particular series have not been as fixated on his physical attributes as previous films, it still stands as a worrisome thought. Like Efron, Peters is a highly coveted actor and "smokeshow," but he's also a deeply committed actor who has proven that he fully understands the responsibility of portraying real killers through his work in American Horror Story: Cult. In this particular case, the series is meant to focus less on the killer himself and instead highlight his victims, the pain he caused, the systematic pitfalls that led to him getting away with so many murders, and the racism and homophobia that were instrumental in his reign of terror. Monster: The Jeffrey Dahmer Story is meant to be heart-pounding and gripping; but it should be from the disturbingly dark content, not the actor's piercing eyes or rock-hard abs.
So, if you plan on watching Monster: The Jeffrey Dahmer Story or consuming any other true crime content, I ask you to separate the actor from the actual killer and crime being portrayed. Lynch and Peters are not Dahmer, and Efron will never be Bundy. Whether Netflix and other streaming apps are to blame for this excessive sexualization is up to you, but please, try to perceive these famously evil killers through an outsider's eye rather than a paramour's.