HCS officials explain district's religion policy
Hang on for a minute...we're trying to find some more stories you might like.
An ongoing conflict has Hardin County Schools employees and students confused about the district's guidelines regarding religious freedom in schools. This controversy all started when an atheist group, American Atheists, sent a letter to multiple school districts (including Hardin and Jefferson County) with complaints that employees are breaking district guidelines that prohibit district employees from portraying any signs of evangelism of a certain religion on behalf of the district itself.

"When [American Atheists] sent us that letter, as with anything, when somebody brings something to your attention, you're going to review it," district spokesman John Wright said.

HCS addressed this issue with the faculty across the district, and since then, many Hardin County Schools employees have spoken out against this letter, saying that it is their First Amendment right to their freedom of religion, to express their religious views in any way they deem fit. Many think that the school system, which is run by the government, doesn't have the right to get involved in their religion and how they practice.

"

"When you open that door [to discussions of religious freedoms], you open a very dangerous door," "

— Tim Isaacs, principal

principal Tim Isaacs said.

The Establishment Clause in the Constitution states that "Congress shall make no law respecting an establishment of religion, or prohibiting the free exercise thereof."

Isaacs said that because of the Establishment Clause, it's implied that the government will stay out of religion. And since teachers and administrators are government employees, it is implied that the separation of church and state applies to all school districts.

On the other side of things, teachers of faith are arguing that this rule implies that they should have the freedom to express their beliefs. However, the HCS District has guidelines, and as long as teachers behave within these guidelines, then there is no problem.

Evangelism on social media has become the biggest and most controversial issue among this discussion as a whole. When a district has 2,700 employees who have to follow specific guidelines, it's difficult to make sure that every single person follows the rules.

"If most of our employees have one or more [social media accounts], how do you go about [regulating] that?" Wright said.

Wright said that the district highly discourages mentioning that you are an HCS employee if you post religious or controversial content on your social media page. According to Isaacs, however, this is not a rule set in stone.

"There were some misconceptions. Like a personal Facebook page. A teacher can have a personal Facebook page where they can talk about all the religious stuff they want, and it doesn't matter if they say they're an employee of Hardin County."

Isaacs goes on to say that this is allowed as long as there are no indications at first glance of said social media page that a teacher supports a particular belief on behalf of the HCS district itself.

To clarify, an HCS employee can go to a worship service wearing a shirt with the district logo on it, but they cannot post a picture of them reading the bible in a church setting while wearing an HCS shirt.

Since these guidelines are merely implied and not written in stone, the controversy continues to develop into a much bigger picture than when it started. Courts have ruled in favor of the separation of church and state, which means that Hardin County Schools must abide by these laws.

"Every check we write comes from a tax dollar, and so we have to abide by those laws. And those laws say that we cannot be partisan in our politics and we cannot be partisan in our religion," Wright said.
About the Writer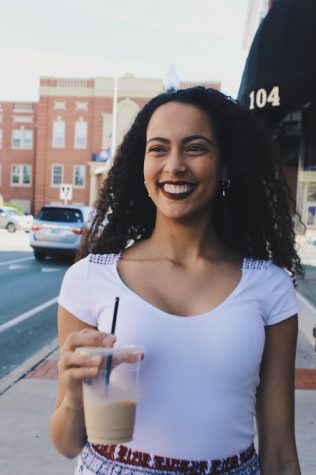 Alloria Frayser, Staff Member
Hi friends! I'm Alloria Frayser and I'm a senior here at CHHS. This is my first year with The Central Times, and I'm so excited to be a part of this wonderful...