Bryant, Hobbs join 1,000 Points Club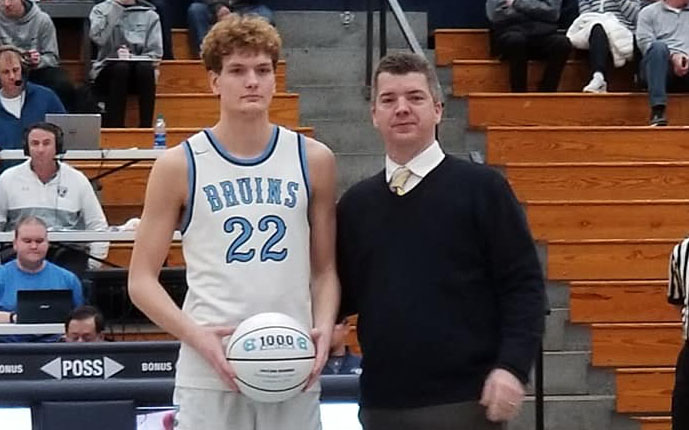 Junior Emily Bryant and senior Jacob Hobbs have dedicated much of their lives to team sports. From little league and middle school to travel ball and high school, these athletes have spent countless hours practicing and honing their skills to contribute to the good of their teams. Sometimes, though, it's nice to get some credit as an individual player, and that's exactly what happened for both earlier this month as they were each recognized for scoring 1,000 points during their high school careers.
Recognized at the Homecoming game against John Hardin on Jan. 25, Bryant scored her 1,000th point on Dec. 17 during the girls' first game against John Hardin. It wasn't until a few games later that former teammate Peyton Beger informed Bryant that she had met this milestone, which has been achieved by 11 other players since the program's inception in 1990. (See box below for a complete list of players in the 1,000 Points Club.)
"My mom had been checking the site and counting up my points," Bryant said. "It's always been one of my goals, and I for sure wanted to get it this year. I didn't know I had it so soon."
Bryant plans to play softball in college and major in criminal justice. In the meantime, she has goals for her senior year. As the current #7 rebounder, she wants to graduate as the #1 rebounder in Central Hardin girls' basketball history, and she would love to reach 2,000 points.
***
Recognized at the South Oldham game on Feb. 7 for scoring his 1,000th point against Fort Knox, Hobbs became the fourth player for the boys' program to reach this milestone. (See box below for a complete list of players in the 1,000 Points Club.)
"Going into the game, we had found out how many points I had. Coach told me I needed 14 points, and I thought 'I gotta get it now,'" Hobbs said, "so when I scored my 14th point, he took me out and everybody stood up and cheered.  It was exciting."
Hobbs is also the all-time leading rebounder in Central Hardin boys' basketball history and has signed with Division 1 Lipscomb University in Nashville. He plans to major in secondary math education, coach, and he would like to play pro overseas after college.