The Faces Behind @nannered_272
Each day, we as students saunter amongst the halls of Central Hardin with the goal of making it to our next class before the late bell rings. However, senior Grace Nannery has a different objective in mind while en route: who will be nannered next?
To those to which "nannered" is a foreign term, let me offer you some background. Nannering is the act of sneakily placing a banana in one's backpack, someone who is ultimately unaware of the operation. Central Hardin's very own nannerer first began to strike in early September.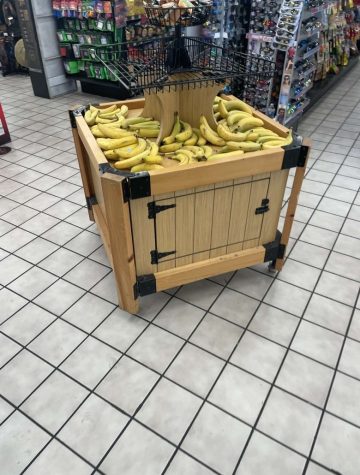 "I had a crazy, crazy dream about nannering people and then when I went to work the next day there was a big box of bananas at the gas station next door," Nannery shared, "so, I took it as a sign."
This led to the birth of the instagram account @nannered_272. Since September, Nannery predicts she has nearly 25 successes. Although, she credits a majority of the affair to her videographers and suppliers. Nannery revealed that a lot of her supply comes from people who follow the account and the nannered fandom, which she couldn't be more grateful for.
The first associate of Nannery was senior Micah Brown. He has been contributing to the nannering franchise since the very beginning.
"Funny story, and I take pride in this, I actually was the first person to ever record her nannering somebody. In my eyes, it was a very historical moment," Brown recalled.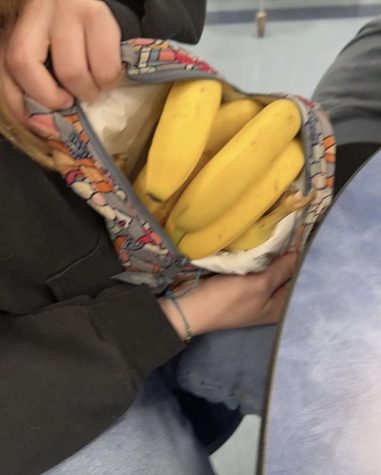 Brown isn't the only one who has had the honor of witnessing the nannerer, sophomore Ryah Rodriguez and junior Jagger Tomes are also in close relations with the operation in its entirety.
"One day, about a week and a half ago, we got all of the bananas and put them in my lunch box; It really helped with the nannering experience," Rodriguez shared.
"We were in Spanish class, and she pulled them out of her backpack. She quite literally had 20 bananas just sitting on her desk, like Donkey Kong," Tomes said. "I often watch, and I sometimes film the nannering."
With success, also comes failure. Nevertheless, when caught in the act, Nannery typically laughs it off, her target laughing with her. With the @nannered_272 activity declining, the question was posed if the nannerer had been caught by administration.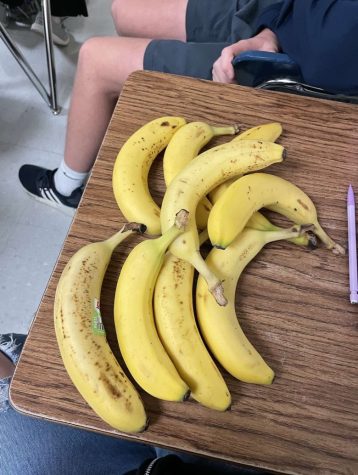 The answer: "No, but they stopped serving bananas at breakfast for a little while, so we thought they might be onto us," Nannery said.
Rodriguez could only recall one incident.
"One time Mr. Vanmeter walked by, but he didn't really catch us, he just gave us weird looks."
All in all, Brown said it best: "We untouched for real."
Make it known that nannering does not pose a threat to the administration. Senior Grace Thompson elaborated on the lightheartedness of the matter.
"It brightens people's moods and they get so excited to come to school just knowing that today might be the day they get nannered."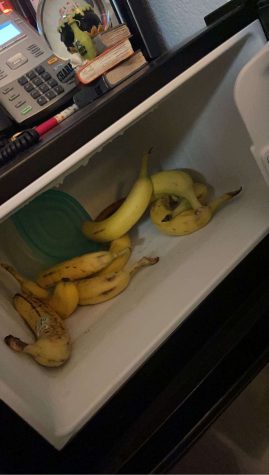 What may be contrary to popular belief, the teachers do love it as well. Take it from English teacher Kayla Honaker.
"People think it's hilarious, love it, and look for it in the hallways; it's a morale booster. It's a good prank that's not harmful to anyone."
Honaker helps Nannery house the abundance of bananas as well.
"I put them in my freezer so they last longer, and then they're not mushy. It provides for quality nannering and so she can put them in backpacks easier," Honaker shared.
The group went on to share some of their favorite, most memorable, nannering experiences.
"We nannered one person while his friends were behind him, they all started laughing and he still had no clue," Tomes said.
"We took a BeReal while nannering someone," Rodriguez said.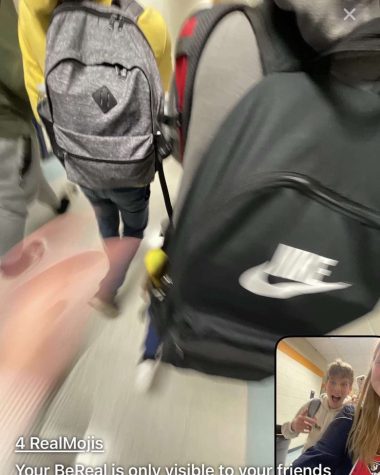 Nannery herself had quite the story to tell.
"Gavon Scanlon, he thought I was filming him singing and so he did a little spin."
A follow-up with junior Gavin Scanlon confirmed he had no knowledge of being nannered in that moment.
"It caught me by surprise, I thought I was just putting on a little show."
Scanlon too, found this amusing upon knowledge, even under the circumstances of being the one nannered. Brown went on to make an ornate statement truly capturing the hold Nannery has.
"You know everybody has a passion, something that they do in life, and it's their call you know. That actually became Grace Nannery's calling, nannering people, and it's just a beautiful thing to see," Brown said.
While Nannery is the nannering queen, a king rose up recently, and he nannered the nannerer. It was a one-and-done, strictly to hold it over Nannery's head.
"I took a loose banana while she wasn't looking and put it right in her bag, and then I took a picture," sophomore Thomas Vercillino said.
With that being said, Nannery does plan to pass the account down following her graduation. Click this link to become a contestant for the account of @nannered_272. The people want to see the nannering live on.
"I hope to see nannering all year round," Rodriguez expressed.
Tell us about your nannering experiences in the comments.