Wrong Answers Only
A Central Times Tiny Mic Session
Maggie Phelps, Hannah Martin, and Eli Thompson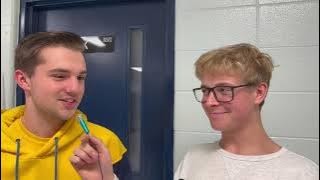 In 2021, the Central Times staff introduced a new series on our Instagram known as Tiny Mic Sessions.
Tiny Mic Sessions have become one of our most beloved contributions to the Central Hardin student body. Tiny Mics feature light-hearted, spunky questions that leave our interviewees speechless and our audience laughing.
One of our most popular sessions yet has been our "Wrong Answers Only" featuring members of the student body as well as faculty and we are delighted to share it with you. Watch through the link posted in the article or through our Instagram.
Be prepared. You never know when a Central Times staffer to stop you in the hallway for the next Tiny Mic Session.