Ashley Lowe, a junior at Central Hardin High School, has a lot more to her story than people realize. She has been in beauty pageants all of her life and has a passion for modeling. Dressing up was always a thing that she loved to do, so this pastime ultimately led to her being in pageants. Now, being a part of Country Elite Pageants, she was Miss United States in 2022 and won the United States Ambassador title in 2021. Her career has been taken to new heights. 
In September of 2022, Lowe would make her fashion week debut modeling in the show "Marcdefang." 
Unfortunately, Lowe had some medical complications earlier this year and wasn't sure if fashion week this year was on the table. It was a last-minute decision as she had just gotten the call. Working three jobs to cover the expenses, Ashley has modeled in Fashion Week for the second consecutive year, working for "Angel Kisses Couture" this time around.
"I've come a long way. When I got back into pageants after taking a break, it inspired me to open up and be more confident," Lowe said.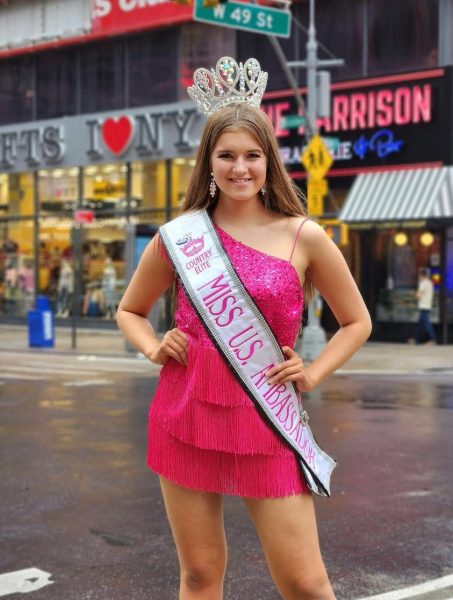 Lowe explained that her favorite part of Fashion Week this year was walking the runway. 
"I got up there and all the stress and anything going on in my personal life goes away." 
She remembered feeling happy when everyone started clapping and the feeling that you've done something good makes it all worth it. Pageants have helped her become a more confident and outgoing person. That being said, Lowe is also happy making other people happy. 
She wishes that she got the call sooner so she could walk in more shows, even though it worked out since she was invited to modeling camp. She wishes she got to experience New York more since she was busy the whole time, but she is grateful that she did get to hang out with her pageant family.
 Miss United States wants to show other people that modeling and pageantry aren't just about beauty or people's body types. She explains that the TV shows about modeling aren't what it's really about. She goes on to clarify that pageants are not stereotypical and they are a family to her.
"There are so many inclusive bodies, talents, genders, and races,"  Lowe says.
Miss US Ambassador has done many photoshoots in her life for many different companies and magazines. Now she's working on her portfolio until the next show and has advice for those interested in the field. 
"Spread your platform. I had a platform called "Straighten your crown,"  Lowe described. "It helps families and kids learn to love themselves."
Besides pageants and modeling, Lowe is looking forward to being healthy, meeting new people, and traveling. After her recent health complications, she is just excited to be walking better. She wants to focus more attention on her small business entitled "Mystically Unique," creating jewelry and other personalization items.  
Lowe's career is already flourishing, as you can see. After walking in New York Fashion Week, she is thinking about going to Atlanta Fashion Week and may have a chance to walk in New York Fashion Week again in February. She is an inspiration to everyone and reminds us that we can do anything, no matter our age, gender, or appearance. Currently, Lowe is rocking the stage in New York City and is inspiring her peers. Let her success be a sign that you truly can do anything.