Ah, PowerHour: a sacred time of day where you can catch up with your best friends, complete a few of many due assignments, or just relax. PowerHour is undoubtedly the highlight of the school day, so it is paramount that we keep it. 
"Power hour is so helpful and a great experience to keep in touch with friends you don't have classes with," freshman Taylor Geist said. "My transition from middle school to high school is so amazing but with PowerHour, it makes it even easier." 
This is the first year since the pandemic that the school has been able to have PowerHour everyday. Last year, the administration had to take PowerHour away because of behavioral issues. On Tuesdays and Thursdays, the school was under the traditional schedule without PowerHour. A few people marred the experience of everyone in the school. 
To prevent this alternate schedule from becoming our reality again (and to prevent everyone in the school from hating you), good behavior is key. Here are three things that everyone should do during PowerHour:
1. Stop Being a Slob 
We all understand that accidents happen, but if you make a mess, please pick it up, for the love of all that is holy. 
"I mean how many of your buddies just walk off and leave crap on the table? That's just rude. That's not a custodian's job," Principal Tim Issacs said. 
Contrary to popular belief, your floor food doesn't magically disappear. It stays, mixing in shoe tread and clinging to the already sticky floors. 
"Students are quite messy in the cafeteria, as I've seen so many messes left by students in the cafeteria that I've almost lost track," junior Braxton Loeffler said. "I've seen food wrappers left on tables, spilled juice completely abandoned for the custodians to clean, liquids spilled on tables, and more."
PowerHour messiness annoys teachers and students alike. 
"Don't make us chase you down to throw trash away. That one makes you feel like you're in an elementary school," Assistant Principal Chase Cruse said. 
2. Clear the Hallways and Bathrooms
It's not cool to just wander around the school and crowd the restrooms. Central is already bursting at the seams, and walking around makes PowerHour even more chaotic. 
"We don't put a lot of restrictions on people, but the one thing we ask you to do is just go somewhere,"  Cruse explained. 
Why does the administration ask you to get in a classroom? It has to do with the unintended consequences of standing around. 
People who can't find a place to reside are "not finding a place to be where they can either be taking advantage of power hour academically," Matt Baucum said. "They find themselves getting into immature situations".
Similar to the crowded hallways, bathrooms are filled with people who are – to avoid being overly crude – definitely not using the space for its intended purpose.  
"There's no reason to be in the bathrooms unless you need to use the bathroom. Otherwise, stay out. Nothing good is happening in there," Isaacs said. 
You don't have to be a genius to realize that nothing good happens in a mob of idle teenagers. The conduct that ensues – fighting, vandalism, and mess-making– is what could get PowerHour quickly taken away again. If you have some unresolved nefarious business, deal with it outside of school so the rest of us don't have to bear your punishment.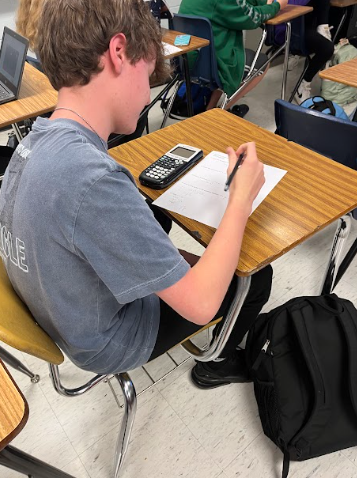 3. Make a Plan
"Have a reason, have a plan. Use [PowerHour], and it doesn't have to be absolutely academic-focused every single day… but have a purpose," Isaacs said. 
Being proactive helps everyone stay on track and prepares you for life after high school, whether that life involves work, family, or college.
"You're gonna go on from here and you're gonna have this time that you do have control over, and if you're not learning to manage that time now, you're going to crash and burn," Isaacs said.
Forming a plan for PowerHour can help you use it to your advantage. The behaviors that make PowerHour successful – such as planning – are used by responsible adults all the time. 
"With a job or just with a family, you have to plan your weeks out," Baucum said. 
Keeping PowerHour is simple; it comes down to being responsible and, well, just not acting like a circus animal. 
"I started power hour. I believe in it," Isaacs said. "I don't like taking it away. But I will". 
The administration at Central is highly supportive of PowerHour, but they, along with the rest of the school, aren't fond of orange chicken on the floor, chaotic hallways, and academic negligence. If we all do our part, the school will be much better for it.