Central's Coffee Cart
Life Skills For the Students, Refreshments For the Teachers
There have been some real treats brewing in resource teachers Molly Pool and Kellee Edlin's classes. They've started up a brand new "Coffee Cart" where students are able to improve their work skills and brighten a teacher's day. Teachers and other staff have been joyously gifted with the opportunity to receive their choice of beverage in the morning brought to them by said students.
For only a small donation, teachers can benefit both themselves and the students by purchasing a drink from the Coffee Cart. Pool discussed the purpose of what seems to be Central's new personal Starbucks. 
"It is for their life skills class, it helps teach them what it's like to have a job and operate in the outside world," Pool explained. "All the money collected goes back to replenish any ingredients or supplies, and any leftover goes towards the classroom. For example, if they wanted to go on a fun field trip or have a pizza party."
Not only does this project improve students' abilities and knowledge, but it also gives them a chance to experience awarding events and an overall positive school year. This is also a very good chance for teachers to bond more with these students and have more insight into their class activities. There's no doubt that this will bring an even more positive aura throughout the school's halls.
Pool shared that they would like to do the Coffee Cart at least once or twice a month on Fridays. She also said that along with the coffee, tea, and hot chocolate they already serve, they would like to start giving out baked goods as well. There's nothing quite like a glazed donut and a cup of coffee, or maybe a few biscuits along with some tea. It's absolutely perfect for an early breakfast or just a simple refresher.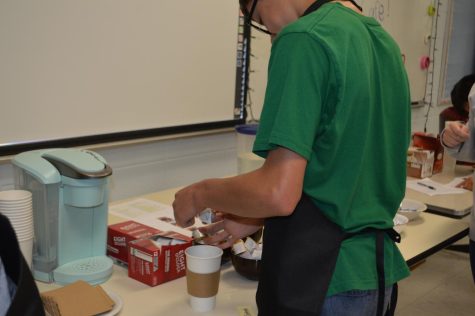 Teachers have definitely appreciated the new helping crew. Resource teacher Lyndsay Booth (who actually helped make the aprons the children wore) had a lot of positive feedback to share about the Coffee Cart.
"Yes, I did order and was happy to make the aprons. When Mrs. Edlin told me what life and work skills she and Mrs. Pool were working on in their class I loved the idea of a Bruin Café. It was such a nice surprise when her student's arrived with the biggest smiles on their faces. They have worked very hard for this and are learning lots of great lessons and skills. I only wish we could have the Bruin Café every week," Booth said.
This is an absolutely wonderful perspective to have and the support she gives is lovely. Surely there are many other teachers who think the same. The more support the students receive from their customers the more they will be inspired to do better. Constructive criticism is a key factor in success after all.
With that being said, the Coffee Cart is definitely a big hit for teachers and a perfect skill for students to improve on. They've already worked so hard to make sure everyone is satisfied, and they can only do better. It's exciting to think about what new things they'll bring to the table in the next few months, and the successors the students will eventually become.